1-click AWS Deployment  1-click Azure Deployment 1-click Google Deployment
Overview
VevoCart is a very successful e-commerce application. It is compliant with ASP.NET PA-DSS. VevoCart has different versions for the various needs of its customers. Multi-Store version lets the trader to run multiple storefronts with different domain names while at the same time share one database and central payment processing.
VevoCart mobile view is compatible with Android and iOS phones. In addition, it offers a number of marketing tools. It is flexible and scalable low cost solution for your e-commerce website equipped with SEO friendly application.
From the reliable, powerful and Responsive VevoCart Premium & VevoCart Multi-vendor versions that gain trusts from customers worldwide, to the Community version which is now completely free for everyone.
Whether an inexperienced merchant who just starts a first store or an experienced developer who is seeking for a robust, secured e-commerce solution. VevoCart Community includes all essential e-Commerce & shopping cart features to get started online businesses.
– Completed e-Commerce features
– Responsive Design
– No limitation – Unlimited products & categories
– Optimized Checkout Process
– PA-DSS Certified – Totally secured
– ASP.NET C# source code Included
– Community support
– Completely free
As same as VevoCart Premium & Multi-vendor versions, VevoCart Community is PA-DSS certified and totally secured. Also, it's based on the same architecture which is scalable to support unlimited number of products & categories . There is no limitation, no expiration and no registration required.
Storefront is designed to be fast-loading, user-friendly and template driven. Store owners are able to turn features on/off, able to configure store settings without programming knowledge.
VevoCart community is flexible and extensible. The ASP.NET C# source code is included for customization, behavior modification and adding extensions. For helps, questions, suggestions, sharing and all others, VevoCart community forum is where VevoCart Team & VevoCart users around the world get connected.
License is completely FREE !
Completed e-Commerce features
Responsive Design Storefront
ASP.NET C# source code included
No limitation – Unlimited products & categories
No expiration, No registration required
Community support : http://forum.vevocart.com

We require you to acknowledge us with keeping our copyright, "Shopping Cart Software by VevoCart" & backlink to us.
For expansion to multi-store or for more advanced e-commerce features, you are able to upgrade to Premium Version or Multi-Vendor Marketplace Version whenever you require.
VevoCart is owned by VevoCart (http://www.vevocart.com/) and they own all related trademarks and IP rights for this software.
VevoCart Hosting on Windows VPS for a Stable Ecommerce Solution
Creating a successful ecommerce business is difficult, even for the most experienced business professionals. With 571 new websites created every day, it can be difficult for ecommerce sites to gain traction and build visibility. When it comes to building a successful online store, the most important elements include:
Quality content. "Content is king" has become the motto of today's digital marketing world. Content that provides value is what drives visitors to make a purchase. Regular content in the form of a blog helps create recurring traffic and cultivate loyal customers.
Structure and design. An intuitive interface is necessary for success in today's hyper-competitive market. Users are looking for a seamless experience that is simple, consistent, and clear with brand messaging.
Credibility. Ecommerce sites must build credibility with every visitor, making the case that he or she should invest in your product or service. Professional design, quality content, and friendly customer service establish the credibility necessary to grow your business.
To be successful, online stores must create a positive user experience. However, in the midst of all these elements, one of the most important elements is often overlooked. Selecting the right shopping cart software for your site is vital to a seamless checkout process that keeps customers coming back time and time again.
Understanding The Benefits Of VevoCart Shopping Cart Software
VevoCart is a free ecommerce solution designed to give businesses the comprehensive resources necessary to create a successful site. Aside from a reliable, secure, and convenient checkout, VevoCart offers features such as:
Responsive design. Marketers expect smartphone users to outnumber 1.75 billion by the end of the year. As the share of mobile users continues to increase, brands must create mobile-friendly websites to remain competitive in today's marketplace. VevoCart comes with mobile-ready designs to help businesses attract smartphone users.
PA-DSS Certified. Security is one of the most important factors for web users before making a purchase online. VevoCart is PA-DSS compliant and has been audited by a qualified assessor. Businesses that utilize VevoCart can ensure the utmost security for their customers.
Multi–store support. VevoCart makes it possible for merchants to create multiple storefronts for the same business. Storefronts with different domain names share a virtual database that unifies inventory, business information, and creates central payment processing.
Built–in marketing tools. VevoCart's marketing tools are scalable to meet your specific needs. Whether you're a small business or a growing enterprise, VevoCart helps build brand recognition, customer loyalty, and consumer satisfaction.
Powerful administrator panel. Business owners and webmasters alike want full control over their sites. The admin panel by VevoCart is designed to provide full control over products, orders, shipping, payments, and other workflow processes.
Perhaps one of the most popular features of VevoCart is the one-time licensing fee. Instead of an ongoing monthly fee, the one-time payment gives ecommerce owners greater cost-efficiency when it comes to a comprehensive shopping cart solution. VevoCart is even built with an ASP.Net source code and utilizes a MS SQL 2005 backend database. This gives businesses the opportunity to modify the source code to fit their specific needs.
How Windows VPS Hosting Can Enhances VevoCart Performance?
While ASP.Net hosting provides basic function, Windows VPS enhances VevoCart performance, making it a powerful solution. This is because the Windows VPS server allows the application to run quickly 24/7, ensuring the maximum uptime for your business. Windows VPS isn't just another ordinary web host. Rather, it gives each client his or her own portion of a host.
This increases security, reliability, efficiency, and performance capabilities. When basic web hosting is too simplistic to meet your needs, then VPS services are necessary to empower your site and the applications behind it. With Windows VPS, you never have to worry about downtime, onsite disasters, or internet outage again. Instead, you have the peace of mind that your customers will always have an excellent experience no matter when they visit.
VevoCart Harnesses Social Media Power
VevoCart provides solutions that address the growing social media market. Instead of simply having a Facebook fan page, for instance, businesses can create a merchant page on Facebook itself. This allows social media fans to shop without having to leave the site. Similarly, VevoCart integrates seamlessly with eBay publishing. Since a countless number of eyes see listings on eBay, sales are maximized to their greatest ability.
URL canonicalization makes the ecommerce site SEO and SMO friendly, helping it rank for targeted keywords and phrases. When coupled with a valuable content marketing strategy, VevoCart's rich marketing tools will bring the business to new heights.
Power Your Business With VevoCart And Windows VPS
In addition to creating a positive user experience, VevoCart streamlines otherwise complex processes on the backend of the site. Merchants can easily access pertinent information necessary to run their business. It's never been easier to access and manage store details online without jeopardizing security. For store management, benefits of VevoCart include:
Redesigned panels. The admin management boasts a newly redesigned enterprise look and feel. Psychologically, this helps boost productivity while providing small businesses with enterprise-class solutions.
Search store configuration. Now, it's easier than ever to find the products and databases you need to run your store. Search configuration capability coupled with expandable and collapsible view provides store management with the tools necessary for success.
Product features capabilities. Showcasing what your products and services have to offer is critical to convincing visitors to make a purchase. Whether your ecommerce site is in beauty, jewelry, healthcare, technology, or another industry in-between, VevoCart helps your business showcase the best you have to offer.
Selecting Windows VPS for VevoCart hosting will provide it with the power necessary to fuel your ecommerce site's success. The host also backs up your most important data, ensuring you never have to worry about data loss or theft. Data backup options are available to secure every piece of information your business needs to safeguard.
Banner Positioning
VevoCart improves banner capability that allows you to place banners in five different positions – center, header, footer, left, and right. The numbers of allowed banners are not limited. You can place any numbers of banners in the same position.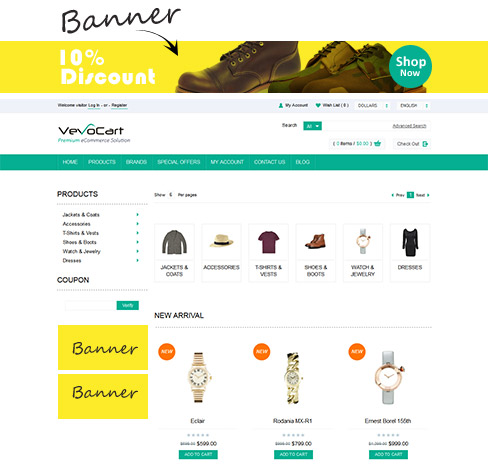 VevoCart is now offering a new feature called Live Design. And it is now to help your design task much easier than before.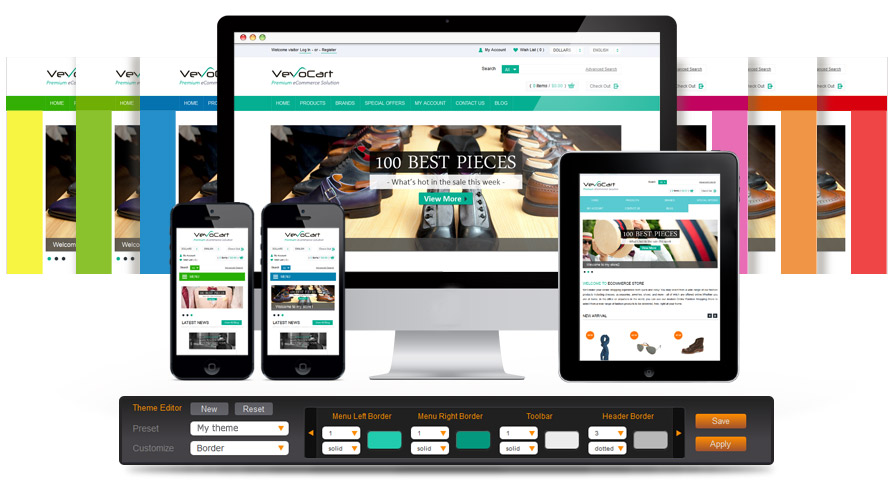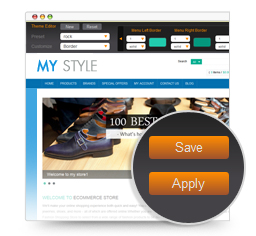 What is Live Design?
Live Design is a tool that enables you to customize your store's look and feel by yourself – color, background, font, and border – in any way you like.
It also offers a preview feature which means that you will be able to see the difference of your customization before it actually takes effect at the storefront or your real website.
Also for Premium version, different customized themes can be applied on different stores.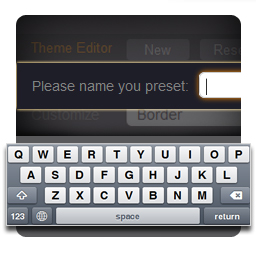 Work with Live Design
To be able to play with Live Design, you need to create a new preset. A preset is like a theme that you can customize.
When you open Live Design for the first time, there is only one preset which is named Default. You cannot edit or delete this preset as this preset represents the default look and feel of the theme offered by VevoCart(currently Live Design supports only ResponsiveGreen).
This default theme is useful when one wants to change the website to the original look and feel.
After you create a new preset, you will see that there are four components which can be customized – color, border, background, and font.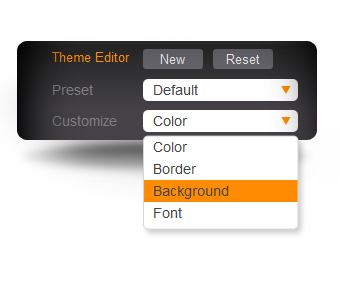 For color, you can change color of several components such as main menu, side bar, content, link, and so on.For border, you can still change the color of a border, but you can also change border's style and size.
For background, you can upload an image of choice to your background, and can customize the detail such as background position and background repeat, for example.
For font, there are five basic things that can be customized in font aspect which are font family, font size, font weight, font italic, and font underline.
When you are done with the customization, then you can save this preset. After you save the preset, it is up to you whether to apply this preset now or later to the website. If not satisfied with this one, you can also create another preset. Numbers of presets are not limited.So feel free to experiment as many colors, borders, backgrounds, and fonts as you would like to.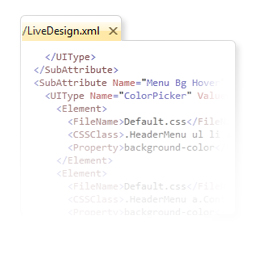 Customizing Live Design
Currently Live Design supports only Responsive Green and will support other themes offered by VevoCart soon.
However, if you have customized your own theme in VevoCart, or it can't be waited for LiveDesign to support more themes, it is really not too difficult for you to customize LiveDesign to do so given that you have some coding experience.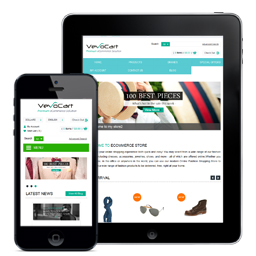 Benefit of Live Design
You don't need a coding knowledge to change your website's look and feel anymore.
You can change an aspect of one element at once. For example, if you change the color of content in Live Design, then the color of ALL contents in your website will be changed.
You can save unlimited number of presets and be able to apply them anytime. This make it convenient for you to change the look and feel for your website according to the events or the time in year.
You can choose different presets to be applied on different stores.
VevoCart on Cloud runs on Amazon Web Services (AWS) and Azure and is built to provide URL canonicalization feature for indicating your preferred URL to search engines.
Cognosys provides hardened images of VevoCart on all public cloud i.e. AWS marketplace and Azure.
Secured VevoCART Free Version on Windows 2012 R2
VevoCart on cloud for AWS
VevoCart on cloud for Azure – Windows
Features
Major Features oF  VevoCart
Responsive Design / Mobile Ready – VevoCart comes with a responsive design, the design which is suitable for every device whether it is desktop, laptop, tablet, or mobile phone.
Rich Marketing Tool – VevoCart marketing tools are designed to be flexible and scalable to support most kinds of marketing campaigns.
Complete eCommerce Features – You can add unlimited categories and products. VevoCart also supports multi-stores and multi-languages features. VevoCart integrates with several shipping and online payment companies. Other features include marketing tools, analytic reports, display setting, content pages and more.
Premium Storefront Design – VevoCart comes with modern template designs that will make your website look official and reliable, which will help turn your visitors to be your customers.
Improve URL rewrite format for special characters from underscore (_) to dash (-)
301 Redirection

URL Mapping from old URL to new URL format
Redirect old URL to new URL when accessing from old URL

Content per store (Premium version only)
Configurations per store (27 Global Configurations are moved to Store Configuration)
Product description per store (Premium version only)
Product kit with option item: Product with option can be added as product kit item
Improve upload button which can be used without Flash Player installation and add "Enable Flash Upload" configuration to select.
Improve live design by removing confirmation pop up panel for Save, Reset and Apply button.
Live design displays incorrect preset.
Add a scroll bar to Product Comparison List Popup page when Compare Popup Body's width is greater than browser screen's width.
Product edit page is inaccessible when product's image is missing.
Product quick view shows stock when it is disabled.
"No Image" file is missing in "Add to cart notification" and "product comparison" list page.
One page checkout with Anonymous user causes error when disabling requires shipping address.
Product dropdown option in product list page cannot be clicked.
HTML tag cannot be added in every name field.
Grid view is not updated when culture changed in product bulk update page.
Product image's zoom and enlarge properties are not working correctly.
Header menu is not working in small scale of responsive design.
Cannot add more than 10 product images when adding product.
Promotion cannot be added to shopping cart when another product in cart.
Exceed parameter in bypass facet search.
Product cannot be edited when admin folder is renamed.
Blog category is not changed when switching culture.
Blog meta information and image are displayed incorrectly when sharing in Facebook.
Content on footer is not showing properly when switching culture.
Wrong store product exports when "Default Value" selected.
Live design is not displaying theme panel when browsing in www.
Live design is not displaying per selected theme.
Full site link redirects to wrong URL in mobile view.
Retail price is still showing when it is disabled.
Related product shows multiple copies of the same product.
Customer review button is not showed when disabling merchant review.
Content list is displayed with incorrect store.
Unable to checkout with PayPal Pro Express when order amount is 0.
Add to cart error in mobile view and inaccessible mobile view's product detail page when enabling Canonicalize.
Add customer error when username is existed in admin user but it's saved in database.
404 error page does not return 404 status code.
Missing product from product list when updating product without stock.
Advanced search and wish list show only store 1 product's name.
Retail price shows when there is no discount (price is equal to retail price).
Breadcrumb, dropdown in admin, dropdown in Product Kit Group List Option, and multi-selector controls are showing encoded text.
Header menu disappears when changing culture in Blog.
Product download count is not decreased.
Add product kit to shopping cart with different option seen as the same one.
Product Export displays question mark (?) when exporting non-English alphabet data.
For each store in advanced search, product search result uses URL of first store only.
Quick search errors when all categories selected.
Menu color does not change in responsive step 3 by using live design feature.
Products in compare list are not shown when at least 1 product is deleted.
An incorrect error message when product in Compare List exceeds the limit.
AWS
Installation Instructions For Windows
Note:  How to find PublicDNS in AWS
Step 1) RDP  Connection: To connect to the deployed instance, Please follow Instructions to Connect to Windows  instance on AWS Cloud
Connect to the virtual machine using following RDP credentials:
Hostname: PublicDNS  / IP of machine
Port : 3389
Username: To connect to the operating system, use RDP and the username is Administrator.
Password: Please Click here to know how to get password .
Step 2) Database Login Details:
Username : sa|| Password : Passw@rd123
Please change the password immediately after the first login.
Step 3) Application URL: Access the application via a browser at http://PublicDNS/vevocart
 Username : ec2-user
 Password : Passw@rd123
Steps to access the  Admin Panel:
To login to vevocart Administrative Panel, you need
to open your browser and navigate to http://PublicDNS/Vevocart/admin
Enter username and password in the given fields and click on the "Login"button to access the Admin Panel.
After successful login to the Admin Panel, you will get access to vevocart Dashboard.
Step 4) Other Information:
1.Default installation path: will be on your web root folder "C:\inetpub\wwwroot\Vevocart".
2.Default ports:
RDP Port – 3389
Http: 80
Https: 443
Sql ports: By default these are not open on Public Endpoints. Internally Sql server: 1433.
Configure custom inbound and outbound rules using this link
 AWS Step by Step Screenshots
Azure
Installation Instructions For Windows
Note: How to find PublicDNS in Azure
Step 1) RDP Connection: To connect to the deployed instance, Please follow Instructions to Connect to Windows instance on Azure Cloud
Connect to virtual machine using following RDP credentials:
Hostname: PublicDNS  / IP of machine
Port : 3389
Username: Your chosen username when you created the machine ( For example:  Azureuser)
Password : Your Chosen Password when you created the machine ( How to reset the password if you do not remember)
Step 2) Database Login Details:
Username : sa || Password : Passw@rd123
Please change the password immediately after the first login.
Step 3) Application URL: Access the application via a browser at http://PublicDNS/vevocart
 Username : Azureuser
 Password : Passw@rd123
Note : Please change password immediately after first login.
Step 4) Other Information:
1. Default installation path: will be on your web root folder "C:\inetpub\wwwroot\vevocart".
2. Default ports:
RDP Port – 3389
Http: 80
Https: 443
Sql ports: By default these are not open on Public Endpoints. Internally Sql server: 1433.
Configure custom inbound and outbound rules using this link
Azure Step by Step Screenshots
Google
Installation Instructions For Windows
Installation Instructions for Windows
Step 1) VM Creation:
Click the Launch on Compute Engine button to choose the hardware and network settings.
You can see at this page, an overview of Cognosys Image as well as estimated cost of running the instance.
In the settings page, you can choose the number of CPUs and amount of RAM, the disk size and type etc.
Step 2) RDP Connection: To initialize the DB Server connect to the deployed instance, Please follow Instructions to Connect to Windows instance on Google Cloud
Step 3) Database Login Details:
The below screen appears after successful deployment of the image.
For local MySQL root password, please use the temporary password generated automatically during image creation as shown above.
i) Please connect to Remote Desktop as given in step 2 to ensure stack is properly configured and DB is initialized.
ii) You can use MySQL server instance as localhost, username root and password as shown above.
If you have closed the deployment page you can also get the MySQL root password from VM Details  "Custom metadata" Section.
Step 4) Application URL:
1.Default installation path: will be in your root folder "C:\iometer-1.1.0-win64.x86_64-bin"
2.Default ports:
Windows Machines:  RDP Port – 3389
Http: 80
Https: 443
Configure custom inbound and outbound rules using this link
Step 5) Other Information:
1.Default ports:
Linux Machines:  SSH Port – 22
2. To access Webmin interface for management please follow this link
Videos
Secured VevoCART Free Version on Windows 2012 R2
Download VevoCart Community