1-click AWS Deployment    1-click Azure Deployment
Overview
SQL Server is a relational database management system (RDBMS) developed by Microsoft. It is primarily designed and developed to compete with MySQL and Oracle database.SQL Server supports ANSI SQL, which is the standard SQL (Structured Query Language) language. However, SQL Server comes with its own implementation of the SQL language, T-SQL (Transact-SQL).
T-SQL is a Microsoft propriety Language known as Transact-SQL. It provides further capabilities of declaring variable, exception handling, stored procedure, etc.SQL Server Management Studio (SSMS) is the main interface tool for SQL Server, and it supports both 32-bit and 64-bit environments.
History SQL Server
Microsoft and Sybase released version 1.0 in 1989. However, the partnership between these two ended in the early 1990s. Microsoft maintained ownership rights to the name SQL Server. Since the 1990s, subsequent versions of SQL Server have been released including SQL Server 2000, 2005, 2008, 2012, 2014, 2016 and 2017.
SQL Server Editions
Following editions are available
SQL Server Enterprise: It is used in the high end, large scale and mission Critical business. It provides High-end security, Advanced Analytics, Machine Learning, etc.
SQL Server Standard: It is suitable for Mid-Tier Application and Data marts. It includes basic reporting and analytics.
SQL Server WEB: It is designed for a low total-cost-of-ownership option for Web hosters. It provides scalability, affordability, and manageability capabilities for small to large scale Web properties.
SQL Server Developer: It is similar to an enterprise edition for the non-production environment. It is mainly used for build, test, and demo.
SQL Server Express: It is for small scale applications and free to use.
MS SQL Server as Client-Server Architecture
Let's have a look at the below early morning conversation between Mom and her Son, Tom.
Ask your brain….!!! "Can you map, who is CLIENT and who the SERVER is?"
The most certain reply would be – "I am pretty smart in that and…. Son is a CLIENT as he is requesting for a cup of coffee and Mother, who is CAPABLE of preparing coffee, is a SERVER."
Here, Tom is requesting his mother, a cup of coffee. Finally, mom does some processing with Milk, coffee, sugar and prepare coffee to serve it hot.
Analogy: MS SQL SERVER architecture.
A CLIENT is an application that sends requests to the MS SQL SERVER installed on a given machine. The SERVER is capable of processing input data as requested. Finally, respond with PROCESSED OUTPUT DATA as a result.
Key Components and Services of SQL Server
Database Engine: This component handle storage, Rapid transaction Processing, and Securing Data.
SQL Server: This service starts, stops, pauses, and continues an instance of Microsoft SQL Server. Executable name is sqlservr.exe.
SQL Server Agent: It performs the role of Task Scheduler. It can be triggered by any event or as per demand. Executable name is sqlagent.exe.
SQL Server Browser: This listens to the incoming request and connects to the desired SQL server instance. Executable name is sqlbrowser.exe.
SQL Server Full-Text Search: This lets user running full-text queries against Character data in SQL Tables.Executable name is fdlauncher.exe.
SQL Server VSS Writer: This allows backup and restoration of data files when the SQL server is not running.Executable name is sqlwriter.exe.
SQL Server Analysis Services (SSAS): Provide Data analysis, Data mining and Machine Learning capabilities. SQL server is integrated with R and Python language for advanced analytics. Executable name is msmdsrv.exe.
SQL Server Reporting Services (SSRS): Provides reporting features and decision-making capabilities. It includes integration with Hadoop. Executable name is ReportingServicesService.exe
SQL Server Integration Services (SSIS): Provided Extract-Transform and Load capabilities of the different type of data from one source to another. It can be view as converting raw information into useful information. Executable name is MsDtsSrvr.exe
SQL Server Instances
SQL Server allows you to run multiple services at a go, with each service having separate logins, ports, databases, etc. These are divided into two:
Primary instances
Named instances.
There are two ways through which we may access the primary instance. First, we can use the server name. Secondly, we can use its IP address. Named instances are accessed by appending a backslash and instance name.
For example, to connect to an instance named xyx on the local server, you should use 127.0.0.1\xyz. From SQL Server 2005 and above, you are allowed to run up to 50 instances simultaneously on a server.
Note that even though you can have multiple instances on the same server, only one of them must be the default instance while the rest must be named instances. One can run all the instances concurrently, and each instance runs independent of the other instances.
Importance of SQL Server Instances
The following are the advantages of SQL Server instances:
1. For installation of different versions on one machine
You can have different versions of SQL Server on a single machine. Each installation works independently from the other installations.
2. For cost reduction
Instances can help us reduce the costs of operating SQL Server, especially in purchasing the SQL Server license. You can get different services from different instances, hence no need for purchasing one license for all services.
3. For maintenance of development, production and test environments separately
This is the main benefit of having many SQL Server instances on a single machine. You can use different instances for development, production and test purposes.
4. For reducing temporary database problems
When you have all services running on a single SQL Server instance, there are high chances of having problems with the problems, especially problems that keep on recurring. When such services are run on different instances, you can avoid having such problems.
5. For separating security privileges
When different services are running on different SQL Server instances, you can focus on securing the instance running the most sensitive service.
6. For maintaining a standby server
A SQL Server instance can fail, leading to an outage of services. This explains the importance of having a standby server to be brought in if the current server fails. This can easily be achieved using SQL Server instances.
Operation and SQL SERVER architecture
We have two types of servers such as the OLTP server(OnLine Transactional Processing) which allows us to write transactional queries(exemple: SELECT "colonne1, colonne2 …, n" FROM "table" WHERE "condition1, condition2,. ., n)on the one hand and on the other hand we have the OLAP server (OnLine Analytical Processing) which a decisional server or a Datawarehouse. In other words, it's thanks to the OLAP serevr it can be possible to make business intelligence(create multidimensional cubes,make report…)
Let's make a little bit of both architectures
MS SQL Server contains several software that run as services or have graphical interfaces or are accessible through a command line. MS SQL Server is composed of 5 main services such as:
TSQL SERVER : It's the database engine service that corresponds to a SQL Server instance. This component runs as a Windows service and is named as MSSQLSERVER for a default instance and MSSQLSERVER$instanceName for a named instance. An instance name is defined when installing a new instance
SSIS (Sql Server Integration Service) : It's the tool for Importing and exporting data,transfering and transforming data.It includes wizards for creating ETL (Extraction Transformation Loading).
SSAS(Sql Server Analysis Service) : It's the right component for making decisional projects. This component is an OLAP analysis tool and Microsoft's Data Mining tool for building OLAP Cube.
SSRS (Sql Server Reporting Service) : It's thanks to this component it possible to return our data coming from our Datawarehouse in a form report (table, chart etc …), dashboard, on various support and easily understood by third persons.This component also makes it possible to create interactive, tabular, graphical reports from XML, relational, or multidimensional data sources
Agent SQL :In charge of SQL Serve monitoring, this component also manages the execution of scheduled tasks and the monitoring of alerts. It runs as a Windows service and is directly linked to a SQL Server instance. It is referenced by default in the Windows Service Manager as SQL Server Agent and by SQL Server Agent (instance name) in the case of a named instance.
[] To this list of main components we can add others such as:
Microsoft Full Text Search : Manages the indexing of text documents and word-based searches
CLR : It permit you to develop stored procedures and functions using C# and VB.NET
Composant de Replication de données : Allows the data to be positioned closer to the users and to reduce processing times. The replication is the duplication of data from one server to another server for the purpose of spreading the workload between the two server
We can find different tools in MS SQL SERVER such as:
SQL Server Management Studio to Allow you performing all operations at the Database Engine level
SQL Server Configuration Manager to Manage All Services Related to SQL Server
SQL Server Profiler to track and analyze the workload of a SQL Server instance
The Database Engine Tuning Wizard allows for optimizing the operation of the Database Engine
The SqlCmd tool is used to execute approved queries, execute Command scripts, establish a dedicated administration connection (DAC)
SQL Server Login Database
SQL Server login database is a simple creadential which is used to access SQL Server.
---
What is credential?
Credentials are simply a username and a password that you provide your username and password when logging on to Windows or even your e-mail account. This username and password builds up the credentials.
There are four types of logins provided by SQL Server:
A login based on Windows credentials.
A login specific to SQL Server.
A login mapped to a certificate.
A login mapped to asymmetric key.
Logins based on Windows credentials facilitates you to log in to SQL Server using a Windows username and password. If you want to create your own credentials (username and password,) you can create a login specific to SQL Server.
To create, alter, or remove a SQL Server login, you can take one of two approaches:
Using SQL Server Management Studio.
Using T-SQL statements.
Using SQL Server Management Studio
Open SQL Server management studio
Go to Security:
Open Security. You will see "Logins". Right click on Logins and you will get "New Login"?
It will open a new page:
Here you can set a login name and password.
SQL Server Create Datatabase
In SQL Server, you have to create a database first before creating a table.
Go to SQL Server Management Studio. You will see a Database.
Right click on the databases and you will see new database. Create a new database.
Name your database.
For example:
Create a database "javatpoint".
You can see that a database is created as "javatpoint".
MS SQL Server Select Database
SQL Server select database specifies your database in which you want to create your table and further operations.
SQL Server Installation Prerequisites
For our SQL Server Installation steps, we will be first downloading the Developer edition
Click on Download now and the downloading of will start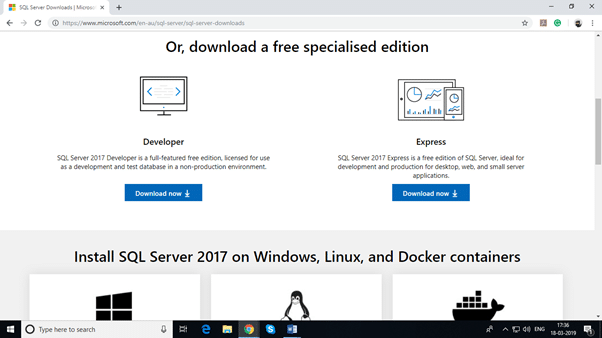 • Once downloading is finished, the file will be available in the downloads folder, or in any folder you have specified, as SQLServer2017-SSCI-Dev
SQL Server Installation
Click on the file SQLServer2017-SSCI-Dev, and you will find a window with three options: Basic, Custom, and Download Media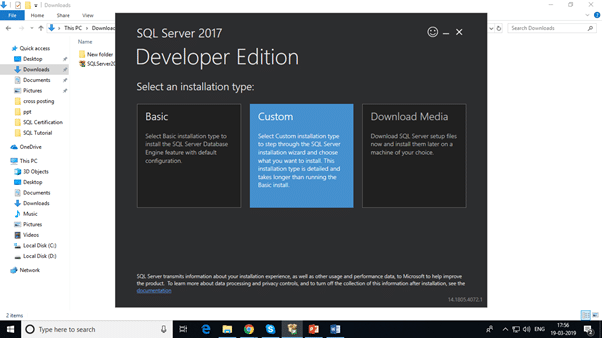 Select Custom, as we want the Developer edition, and you will find a path for it below Media Location. You can either retain the default one or you can specify a customized path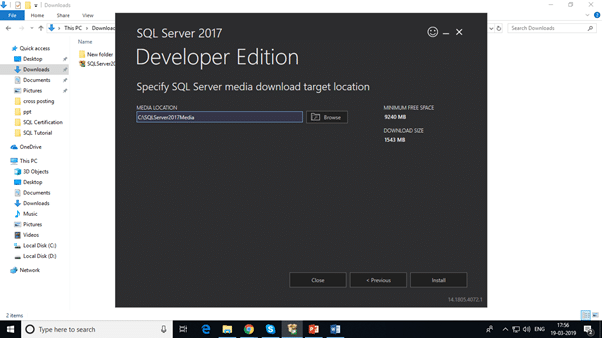 In the snapshot, the default path is retained as is in Media Location
Once the path is selected, click on Install and the installation begins
A message appears as Your SQL Server Installation will begin shortly… and you will find a pop-up screen of SQL Server Installation Center
How to Install SQL Server?
A pop-up window, SQL Server Installation Center, appears and it contains two columns
Select Installation from the left-side column, and once you select it, you will find multiple options on the right-side column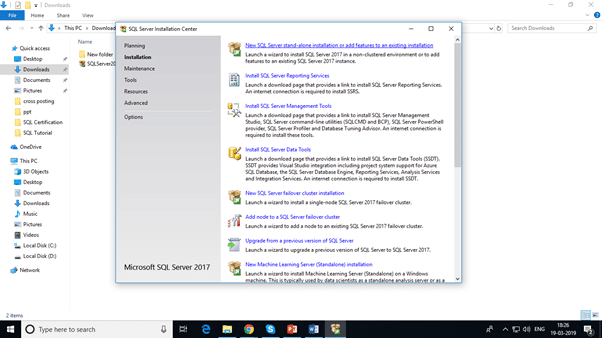 Select the first option from the right-side column, which is New SQL Server stand-alone installation or add features to an existing installation
Wait for it to process and you will have a window SQL Server 2017 Setup in which click on Next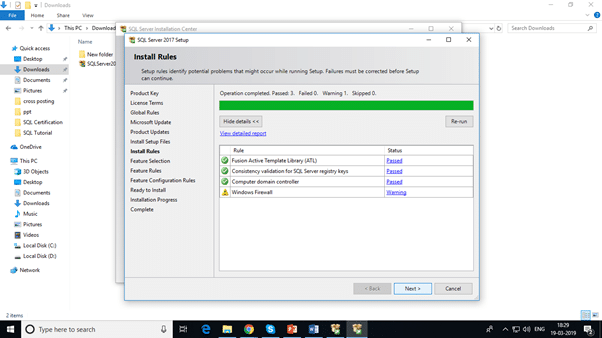 Select Perform a new installation of SQL Server 2017 and click on Next
Select the free edition from Specify a free edition and click on Next
Accept the license terms
The display screen takes you to the features of the SQL Server 2017
There are many options available, but in this blog we will be selecting Database Engine Services
Click on Next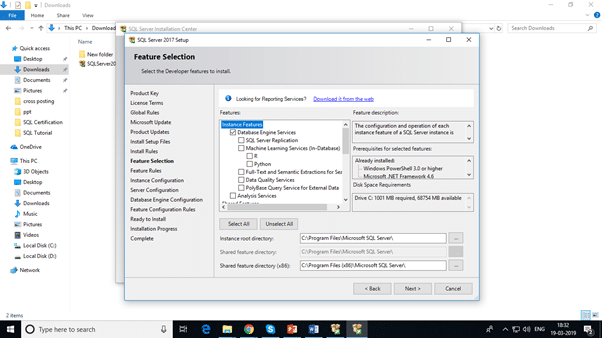 The next setup is the Instance Configuration
Give the details in Named instance and Instance ID fields and click on Next
Here in the snapshot, I have given the Name instance as SPARATA and the same appears for the Instance ID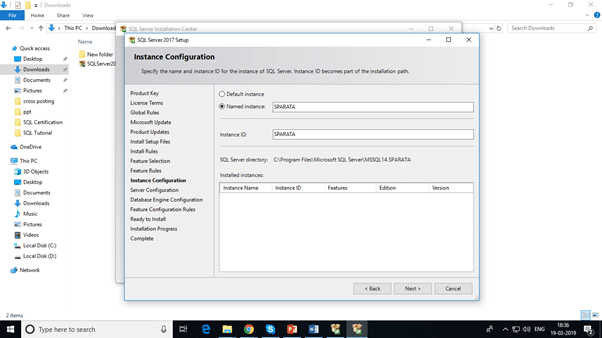 The Server Configuration screen is displayed in which click on Next
Now on the screen, you will find two authentication modes
Windows authentication mode
Mix Mode
Select the Mix mode and enter the desired password and confirm the password
Select the user by clicking on Add Current User, and the current user has been added now
Click on Next
Once the Current User is added, the SQL Server is ready to install
Now, click on Next and the installation process takes place
Once the installation process is completed, you're back to SQL Server Installation Center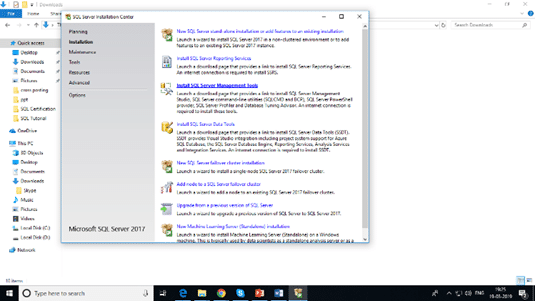 Now, you will also have to install the SQL Server Management Tools; this tool will help you connect with the database.
Click on Install SQL Server Management Tools and it will redirect you to Microsoft web page
Download the latest version of SQL Server Management Studio and you will find the downloaded file in your folder as SSMS-Setup-ENU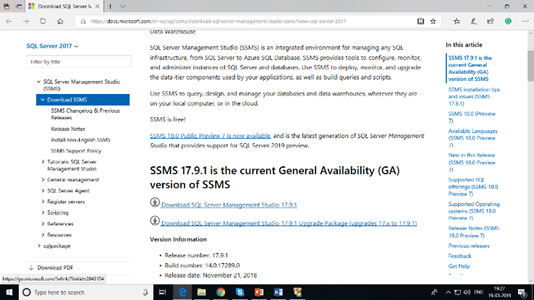 Click on the file and install the studio
Once the installation is completed, search for Microsoft SQL Server Management Studio
The SQL Server Management Studio is launched, and you will find a pop up, Connect to Server
Enter the password which you had entered before with Login as sa and click on Connect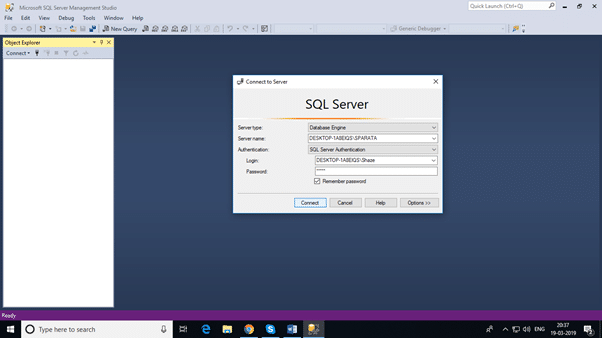 —Microsoft SQL Server 2012 Express is a powerful and reliable free data management system that delivers a rich and reliable data store for lightweight Web Sites and desktop applications. Microsoft SQL Server 2012 is a relational database management system (RDBMS) designed for the enterprise environment. Like its predecessors, SQL Server 2012 comprises a set of programming extensions to enhance the Structured Query Language (SQL), a standard interactive and programming language for getting information from and updating a database.SQL Server 2012's new features and enhancements include
Always On SQL Server Fail-over Cluster Instances and Availability Groups which provides a set of options to improve database availability, Contained Databases which simplify the moving of databases between instances, new and modified Dynamic Management Views and Functions, programmability enhancements including new spatial features,metadata discovery, sequence objects and the THROW statement, performance enhancements such as Column Store Indexes as well as improvements to OnLine and partition level operations and security enhancements including provisioning during setup, new permissions, improved role management, and default schema assignment for groups.
Features
There are the following features  of SQL:
High speed
Using the SQL queries, the user can quickly and efficiently retrieve a large amount of records from a database.
No coding needed
In the standard SQL, it is very easy to manage the database system. It doesn't require a substantial amount of code to manage the database system.
Well defined standards
Long established are used by the SQL databases that are being used by ISO and ANSI.
Portability
SQL can be used in laptop, PCs, server and even some mobile phones.
Interactive language
SQL is a domain language used to communicate with the database. It is also used to receive answers to the complex questions in seconds.
Multiple data view
Using the SQL language, the users can make different views of the database structure.
Microsoft SQL Server 2019 New Features
Big Data Clusters
The latest version of SQL Server simplifies big data analytics for users. It combines Apache Spark and HDFS (Hadoop Distributed Filing System) and provides one integrated system. The new SQL server allows you to build "Big Data Clusters" using a blend of SQL Server and Apache Spark containers over Kubernetes utilizing SQL Server's current PolyBase features. With the help of local Kubernetes, which is supported by public clouds, you'll be able to deploy Big Data Clusters on AWS, on Azure, on GCP, and also on your own infrastructure.
Always On Availability Groups
For the first time, Always On Availability Groups were introduced in SQL Server 2012. Since then, Microsoft has  made some improvements to this feature in each new release. In the same way, in SQL Server 2019, has made improvements to the high availability and disaster recovery feature. In the new version, the Always On Availability Group can have 5 synchronous replicas (1 primary copy and 4 secondary ones) for failover purposes, whereas there were 3 limitations in previous SQL Server 2017.
One of the great things about this feature is that it enables numerous duplicates of a database to be reproduced on different servers. SQL Server 2019 can redirect connections for customer applications from a secondary replica to the primary one. This  means that a customer can be redirected to the primary replica without  using the accessibility group listener, which is a virtual system name used to interface customers to databases in replicas.
UTF-8 Support
This feature provides significant storage savings. The new version supports the widely used UTF-8 encoding as an export or import encoding, or column-level or as a database-level grouping for text data. Thus, Unicode string data will take up much less storage space than the previous UTF-16.
UTF-8 is permitted in VARCHAR and CHAR and  extends capabilities when creating or changing an object's collation with UTF-8. And you can use the familiar CHAR data type rather than NCHAR, as CHAR requires only 10 bytes, whereas NCHAR requires 20 bytes for the same Unicode string data storage.
Resumable online index
The most exciting capabilities are related to indexing. Probably many database administrators face a terrible situation when an indexing operation goes wrong. Finally, SQL Server 2019 has come up with the new features to cope with these situations. When resumable online index is created, we can pause the indexing process and then resume from where we left off. We don't need to start again from the very beginning.
New SQL Server 2019 supports the recovery of indexing failure. The process may fail due to many factors, such as after running out of disk space or after a database failure. You can resume the indexing process, once you have corrected the error that caused the index operation to crash without having to start over.
New SQL Server 2019 also reduces the amount of log space required when you create a large index, compared to the previous SQL Server 2017.
Additionally, SQL Server 2019 has a new feature for online conversion of conventional row storage tables to columnstore indexes. In the previous SQL Server 2017, such conversions could only be performed offline. But, with the latest version of SQL Server 2019 and Azure SQL Database, we can create or re-create Creating clustered columnstore indexes (CCI) online.
Intelligent Query Processing
The new Intelligent Query Processing suite is developed to fix some of the common query execution issues by adopting some automatic corrective strategies at runtime. It uses feedback data insights gathered from past executions. Microsoft has also started leveraging some of these features in Azure SQL DB and plans to keep expanding this region for SQL Server 2019. The image above shows the new and improved areas in the Intelligent Query Processing features.
Added features for SQL Server on Linux
Microsoft has added plenty of new features to its Linux edition. Perhaps the most exciting update is support for data replication which enables you to build distributed SQL databases effectively, especially those related to the Linux version of the Distributed Transaction Coordinator.
Another significant expansion of the Linux version is the ability to set up Always On Availability Groups in Docker containers arranged with Kubernetes. Additionally, for Linux, Microsoft makes certified container images available and places all of its windows and container images for SQL Server 2019 and SQL Server 2017 into the Microsoft Container Registry.
Another significant added feature – SQL Server 2019 on Linux supports OpenLDAP. It is an open source form of the Lightweight Directory Access Protocol. Although OpenLDAP can work autonomously of Microsoft's Active Directory, the new support for OpenLDAP allows Linux-based SQL Server databases to join Active Directory.
In addition, another important part of SQL Server 2019, Microsoft has included integrated tools for building and testing machine-learning models on Linux. Thus, it enables SQL Server on Linux users to run machine learning applications written in Python and R languages.
Master Data Services (MDS)
Silverlight controls are replaced with HTML: Silverlight support for MDS portal is no longer needed. HTML controls will now perform the same function.
Security
The new version has come up with advanced security support. It encrypts the data using secure enclave technology. Certificate management is now integrated into the SQL Server Configuration Manager. A widely used SSL/TLS certificates are integrated to secure access to SQL Server instances.
-Major Features of SQL Server :
New storage features—Column-store indexes, File-table storage.
New Transact-SQL (T-SQL) constructs—Sequence objects, THROW statement, new conversion, logical, string, and date and time functions, and adhoc query paging.
New scalability and performance features—Indirect checkpoints, FORCESCAN table hint, number of table partitions increased to 15,000.
New security features—Database Audit, user-defined server roles, contained databases.
New availability features—A number of high-availability enhancements known as AlwaysOn, which include AlwaysOn Availability Groups and AlwaysOn Failover Cluster Instances.
Statistical Semantic Search—Statistical Semantic Search builds upon the existing full-text search feature in SQL Server by querying the contextual meaning of terms within a document repository.
Data Quality Services—This new feature allows you to build a knowledge base of data rules and use those to perform a variety of critical data quality tasks, including correction, enrichment, standardization, and de-duplication of your data.
AWS
Installation Instructions for Windows
A) Click the Windows "Start" button and select "All Programs" and then point to SQL Server
B) RDP Connection: To connect to the operating system,
1) Connect to virtual machine using following RDP credentials :
Hostname: PublicDNS  / IP of machine
Port : 3389
Username: To connect to the operating system, use RDP and the username is Administrator.
Password : Please Click here  to know how to  get password .
C) Other Information:
1.Default ports:
Windows Machines:  RDP Port – 3389
Http: 80
Https: 443
Configure custom inbound and outbound rules using this link
AWS Step by Step Screenshots
Azure
Installation Instructions for Windows
A) Click the Windows "Start" button and select "All Programs" and then point to SQL Server
B) RDP Connection: To connect to the operating system,
1) Connect to virtual machine using following RDP credentials :
Hostname: PublicDNS  / IP of machine
Port : 3389
Username: Your chosen username when you created the machine ( For example:  Azureuser)
Password : Your Chosen Password when you created the machine ( How to reset the password if you do not remember)
C) Other Information:
1.Default ports:
Windows Machines:  RDP Port – 3389
Http: 80
Https: 443
Configure custom inbound and outbound rules using this link
Azure Step By Step Screenshots
Videos