1-click AWS Deployment on 2012 R2 1-click AWS Deployment on 2016
Overview
Secured WordPress with Aurora on Windows Server
WordPress With its populatiry does not need introduction.But Mysql Management has been a pain point which is being removed using this Instance by using 100% Mysql Compliant Aurora
Wordpress Users have always had problem of maintaing Mysql inclduing backup, scaling up and administering. AWS has removed this problem by providing a 100% mysql compliant Aurora. Aurora takes out the overhead of maintaining a RDBMS system.Cognosys presents this specially pre-configured WordPress image with inbuilt Mysql Backup. Enterprise Customers who are looking for WordPress can use this Image for instantaneous deployments. WordPress combines simplicity for users and publishers with under-the-hood complexity for developers. This makes it flexible while still being easy-to-use. Everything from simple websites, to blogs, to complex portals and enterprise websites, and even applications, are built with WordPress. The respective trademarks mentioned in the offering are owned by the respective companies.
Due to the SysPrep of this image, it may take up to 20 minutes to launch.
WordPress is web software you can use to create a beautiful website or blog. We like to say that WordPress is both free and priceless at the same time.The core software is built by hundreds of community volunteers, and when you're ready for more there are thousands of plugins and themes available to transform your site into almost anything you can imagine.
WordPress started as a simple blogging system in 2003, but it has evolved into a full CMS with thousands of plugins, widgets, and themes. It is licensed under the General Public License (GPLv2 or later).
It is web software you can use to create a beautiful website or blog. We like to say that WordPress is both free and priceless at the same time.The core software is built by hundreds of community volunteers and when you're ready for more there are thousands of plugins and themes available to transform your site into almost anything you can imagine.
Over 60 million people have chosen WordPress to power the place on the web they call "home" we'd love you to join the family.
WordPress is an Open Source project, which means there are hundreds of people all over the world working on it. (More than most commercial platforms.) It also means you are free to use it for anything from your recipe site to a Fortune 500 web site without paying anyone a license fee
It is currently the most popular content management system (CMS) in the world. WordPress powers more than 30% of the websites around the world — and it's rapidly growing!
Overall, a content management system is a web application that allows website owners, editors, and authors to manage their website and publish content without any programming knowledge.
WordPress uses PHP and MySQL, which is supported by nearly all web hosts. But a specialized WordPress hosting plan can give you the edge in terms of speed, performance, and reliability.
Usually, CMSes are used for blogging, but a WordPress site can easily be turned into e-commerce store, portfolio, newspaper website or anything else your heart desires.
One of the best things about WordPress is that it comes with an intuitive and user-friendly interface. If you know how to use Microsoft Word you don't need to worry about WordPress; you will be able to create and publish content just as easily!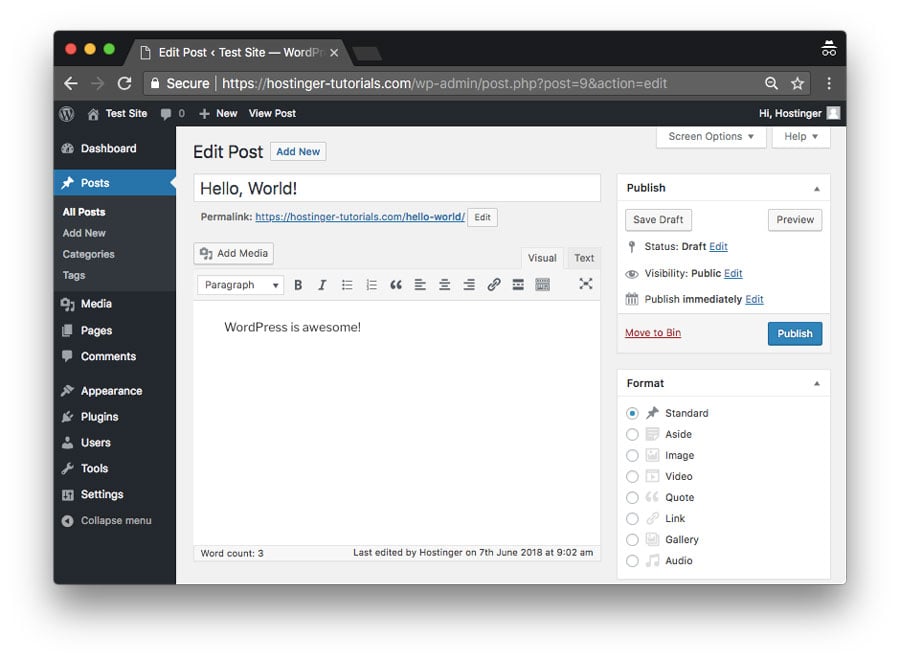 The best part is that WordPress is open-source and free for everyone to use. In fact, it allows millions of people around the world to have a high-quality, modern website — even for the smallest players.
WordPress History
The journey of WordPress started in 2003 when two developers, Matt Mullenweg and Mike Little, began to build a new blogging platform on top of a discontinued software called b2/cafeblog. Shortly after that project was abandoned, they decided to fork it and continue the development on their own terms.
They released the first version of WordPress (WordPress 1.0) in January 2004. It looked quite different from the feature-rich content management system that these days we know as WordPress. However, it already had most of the core features we still use today, such as the WordPress editor, a simple installation process, pretty permalinks, a user management system, comment moderation capabilities, and others.
Since 2004, WordPress has gone through an incredible transformation. Nowadays, the WordPress project is developed, managed, and maintained by a dedicated open-source community of thousands of worldwide members. They work remotely, many of them as volunteers, and meet in person at WordPress' distributed conference called WordCamp. WordPress is still rapidly growing and a new version is released every 2 or 3 months. Each version adds new features and security updates to the platform.
Difference between WordPress.org and WordPress.com
When you look up WordPress in Google or another search engine, you will find two related websites: WordPress.com and WordPress.org. First, this can be confusing, however, both sites have their own purpose and user base.
WordPress.org
WordPress.org is the website you need if you want to run a self-hosted WordPress site. Here, you can download the platform and find a plethora of free plugins and themes. To host your own website, you also need to register a domain and sign up for a web hosting plan.
WordPress uses PHP and MySQL to run, which is something that all web hosts support. However, there are also specialized WordPress hosting plans which are based on a hosting environment specifically optimized for the best performance of the CMS.
Want to start a website? Hostinger has a special WordPress hosting offer just for you! One-click setup, 24/7 support, and all you need to start a successful website. 30-days money-back guarantee included!
WordPress.com
WordPress.com is a hosting company that uses the WordPress content management system for all the blogs it hosts. Users who sign up for the service get their own blogs with a myblog.wordpress.com type of domain (however custom domains are also available as a paid feature). The default plan is free, though it comes with some limitations.
What Kinds of Websites Can I Create with WordPress?
WordPress is an extremely versatile tool that you can use to create several different kinds of websites. In fact, the possibilities are endless but we have collected some more common ways of usage to give you a better insight.
Blogs
WordPress started as a blogging tool and that's still one of the most frequent use cases of the platform. You can start small with minimal cost, for instance with Hostinger's beginner-friendly survival plan. Then, as your blog gets more and more exposure, you can upgrade to more advanced solutions.
Portfolios
Freelancers, artists, photographers, musicians, writers, and other creative professionals frequently use WordPress to build their online portfolios. There are several portfolio themes available on WordPress.org and elsewhere that include all features you may need, such as image galleries, lightboxes, and portfolio grids.
Business Sites
If you have a small business you will also find WordPress to be a good solution for your website. Although WordPress is extremely popular with SMEs, it's more and more frequently used by large corporations, too.
Charity Sites
As WordPress has a low cost of maintenance and a relatively flat learning curve, it's not surprising that it's the favorite platform of charities and churches as well. Thanks to WordPress, these days more nonprofits have an online presence than ever before.
Online Shops
With WordPress, you can also create an online shop without any programming knowledge. WooCommerce, the most popular eCommerce plugin for WordPress allows you to add crucial features such as shopping carts, an order management system, checkout pages, one-click refunds, and others to your site.
Popular Sites Using WordPress
Although WordPress is mostly known as a platform for bloggers and small businesses, it's also used by many notable websites.
The New Yorker
The entire ecosystem of the popular The New Yorker magazine is powered by WordPress.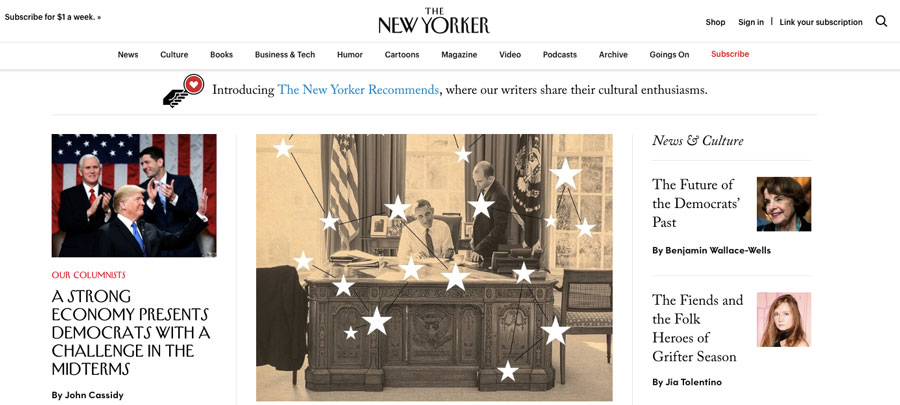 TechCrunch
TechCrunch is the go-to site for people interested in cutting-edge technology and startup news—maybe it's not a coincidence that they chose WordPress as their platform.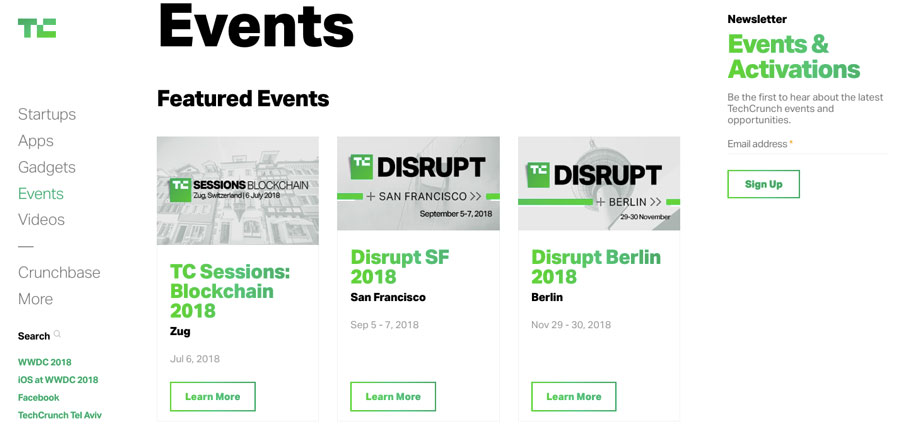 Sony Music
The website of Sony Music is a great example of successful commercial brands making use of WordPress.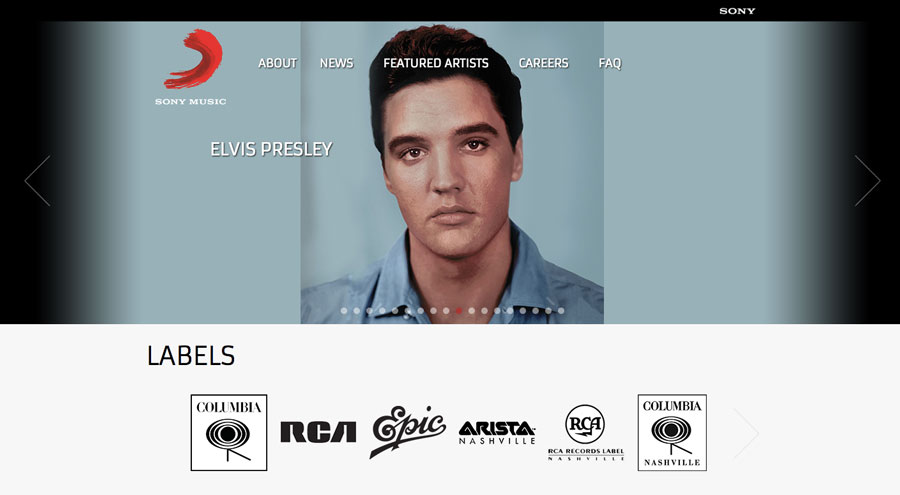 White House
The official .gov website of the White House also runs on WordPress. Who would have thought?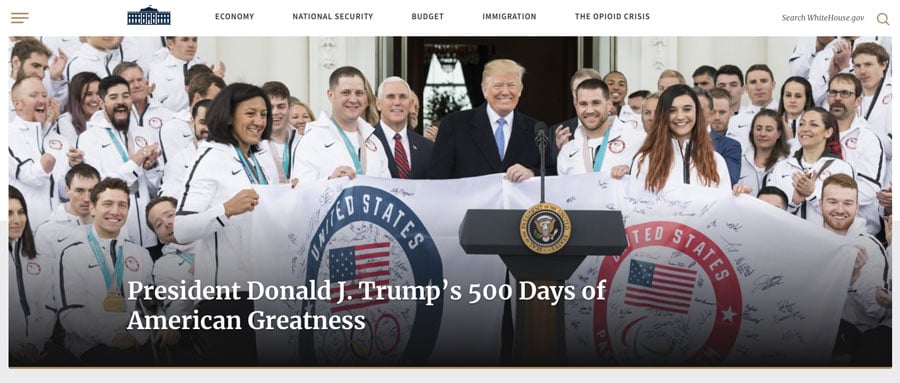 Beyoncé
WordPress is incredibly popular with artists, photographers, musicians, and other creatives—even with the famous ones. Beyoncé is one of them; WordPress empowered her to deliver an engaging user experience to her fans.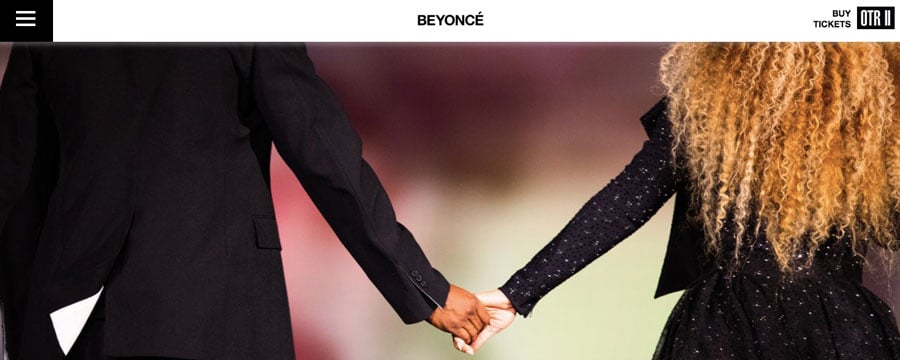 WordPress Pros and Cons
WordPress has several advantages and it's by far the best platform for anyone who wants to run a website without any programming knowledge. Besides, it's also a good choice for programmers, as it's a highly customizable tool. However, it also has some pitfalls you need to be aware of.
Pros
Low cost – You only need to pay for the domain and web hosting. The WordPress software and many of the plugins are themes are free.
Easy installation and update process – Unlike many other content management systems, WordPress needs zero configuration and you can update it with a single click.
Simple to manage – You don't need any programming knowledge to perform everyday tasks such as writing and editing posts, uploading and editing images, managing users, adding menus, and installing plugins and themes.
Custom design – With thousands of ready-for-use WordPress themes, you can easily create a custom design that fits with your niche. For instance, there are specific themes for restaurants, medical practitioners, small businesses, food bloggers, etc.
Custom functionality – You can make use of plugins to extend WordPress' default functionalities. Basically, you can find a plugin for every specific task from search engine optimization to event booking.
Helpful community – WordPress has a worldwide community and a super helpful support forum. If you don't know something or have any problems you will quickly find help.
Cons
Security concerns – As WordPress powers more than 30% of the web, it's also frequently targeted by hackers. However, if you install a security plugin you can hugely reduce the risk.
Third-party content – As most WordPress plugins and themes are created by third-party developers, they are sometimes buggy. Before installing a new plugin or theme, always read the description and reviews and if you are still not sure ask for support from the community.
Page load time – If you have too many plugins your site may become slow. Installing a caching plugin can usually solve this problem, though.
Using Amazon Aurora to seamlessly increase capacity of WordPress database backends
WordPress powers 30 percent of all websites. It is the content management system that we've built our business on at Pagely. Our managed WordPress hosting runs entirely on Amazon Web Services. In the same way that Amazon has freed customers from the worries of managing physical hardware and data centers, Pagely enables clients to stop worrying about managing WordPress and instead focus on their mission. Pagely's dedicated support and experience with successfully running WordPress at scale pairs nicely with Amazon's technology offerings.One of the most crucial aspects of running WordPress is the MySQL database. Amazon empowers companies like Pagely to manage operational duties much more gracefully and efficiently than with other solutions. This is due to the innovations that are present in Amazon Relational Database Service (Amazon RDS), and especially with Amazon Aurora.In this post, we illustrate how Amazon Aurora makes it a breeze to increase capacity on production workloads. We walk you through how the built-in features in Aurora make this process more efficient and dependable. You can certainly achieve similar results using a self-managed approach with enough time and the right in-house talent, or even with other commercially available solutions. But the process takes far less effort, is better integrated, and is more approachable when you use Aurora.
How does Aurora go above and beyond MySQL?
Aside from the performance benefits, upkeep is straightforward. Things like creating a new replica and performing a failover are faster and provide more control than on an Amazon RDS instance using the MySQL or MariaDB engines. Taking it a step further, compared to a "vanilla" MySQL environment not using RDS, Aurora offers more flexibility and ease of use.
We previously blogged about the performance gains for WordPress on Aurora. But without the flexibility to handle what various workloads might throw at you, it doesn't make a difference. These same features could take longer to build in-house, or it might take weeks to deploy alternative commercial solutions like MySQL Cluster or Galera Cluster into production for the first time. If you're not using AWS yet, AWS Database Migration Service (AWS DMS) and AWS Direct Connect are tools that can help you migrate your onsite MySQL and PostgreSQL systems to Aurora.
What does Amazon Aurora do?
Amazon Aurora is a relational database engine that combines the speed and reliability of a high-end commercial database with the simplicity and cost-effectiveness of an open-source database. You can read more about it in the User Guide for Aurora.
The standard configuration of an Aurora relational database service is a Multi-AZ cluster with a primary (writer) instance and a single, secondary (read replica) instance. Although it is possible and even necessary in some cases, WordPress does not natively support the splitting of read and write queries. So the replica is actually unused in normal operation. Therefore, the purpose of the replica is to serve as a resizable failover target in the event that we need to scale up for more capacity. This is because we've found it's generally faster to resize an existing instance than it is to spin up a new one.
It's important for us to know right away if a database instance starts getting overloaded. We must be able to trace the cause of that problem back to a specific query or customer database schema, increase capacity if needed, and minimize the amount of downtime during modifications.
To monitor the health of our Aurora clusters, we use Amazon CloudWatch. Alarms inform our team of operational issues like high CPU usage or a spike/drop in select throughput. We can even be notified of things like unexpected failover events using RDS event notifications. These are valuable insights when managing large-scale WordPress deployments.
How do we work with Aurora?
Our clients range from Fortune 500 enterprise companies to top-tier universities in the public sector, and a wide range of B2B users in between. Spikes can come from updates, traffic, promotions, and other sources, and our clients' sites need to be ready before they happen. Here's how Aurora can support our efforts during scaling and for recovery from high-load events.
Managing sudden spikes
Let's consider an Aurora DB cluster powering a segment of customer sites' databases that experiences a sudden spike in CPU usage, consuming most of the spare capacity we've reserved.
This situation could happen for a number of reasons—for example, if a larger group of databases receives a buggy update from a tool that they have in common. During initial assessment of the load issue, we'll decide if it's necessary to resize the read replica to have higher capacity and perform a failover.
Next, we validate that the CPU usage is within the acceptable thresholds following failover, and that actual application performance has returned to a nominal state.
With the capacity issue addressed in the immediacy, we identify the cause of the higher resource usage, which could be something like the following:
A bad plugin update on WordPress
A bad query
A bad site
A site missing a web cache, or something else
With Aurora, we can scale up to absorb the unexpected increase in workload, address the issue that caused the spike, and monitor for improvement. After systems stabilize, we can switch back to the original writer and downsize the reader once again.
Facilitating uninterrupted growth
Now consider an enterprise client with a private Aurora RDS cluster who has been growing in popularity. Our evaluation of the application indicates that their database endpoint requires more capacity. That can be CPU, memory, and even network throughput, all of which are what a larger instance gives you more of.
The client, of course, does not want to experience extended downtime, so we need a solution that keeps their site up and running well. The way we handle this is to add a temporary read replica of equivalent size to their Aurora cluster. We perform a failover to it, and then resize the original instance while it acts as the reader endpoint.
After the resize is complete, we fail over, once again, to the original writer and ensure that the new capacity is sufficient before removing the temporary replica. If your specific integration with Aurora requires keeping instance names the same for automation to work correctly, this process would also work for you. If you can have a new instance name be reflected more fluidly, then just create a bigger replica, fail over, and remove the other instance.
The very best part about this is that the process works as reliably for a database footprint of hundreds of thousands of tables as it does for more modest workloads. Some of the WordPress applications we host have massive amounts of data (relative to WordPress norms), and we consider Aurora the obvious choice for them.
What tips do we have for using Aurora?
Here are some things we've learned along the way that might save you time with your own Aurora usage.
Inform clients about upcoming maintenance
Always communicate with your clients on scheduled maintenance, even if you anticipate that little to no downtime will occur. They'll appreciate that you are keeping them informed. It also gives them a chance to notify their own clients. If there does end up being a little downtime, it's okay because expectations were properly set. Standing up a status page that lets your customers subscribe to get maintenance announcements helps make this an efficient and routine step.
Develop custom tools for your use case
You can use the Amazon RDS console to perform all the necessary tasks. But the underlying API and software development kit enable integration with a workflow that better fits your specific use case. We highly recommend developing custom tooling that works with the API. This lets you delegate complex operations directly to your customers or internally to a wider net of staff members in a more simplified, mission-oriented format—without giving out direct access to RDS.
What are some things that might work? Using orchestration and pipeline tools such as Rundeck, Red Hat Ansible, or Jenkins, you can tap into AWS APIs and create your own way of conducting any given scenario.
Monitor usage and other trends
It's important to set up CloudWatch alarms ahead of time. Make sure that they are visible to your team via email or with a pager system.
At the very least, you should be monitoring your Aurora clusters for CPU usage. Integrating this with SNS and PagerDuty allows your own Site Reliability Engineering (SRE) team to be informed of dissatisfying trends. They can then initiate the proper remediation protocols quickly. Explore all the metrics available, especially following a load issue, to better understand what additional alarms would help provide early warning of problems for your use case.
Plan for workload spikes
Always maintain spare CPU and memory capacity on Aurora clusters handling production workloads.
Generally, maintaining a 50 percent or lower baseline CPU utilization is the goal for workloads that experience significant usage spikes. The spare headroom is so that you can absorb most spikes and avoid the need for a failover wherever possible.
While we're on the topic, Aurora Serverless with auto scaling capabilities is in the works, and it could be a real game-changer. Everything we covered so far is operating under the strategy of provisioning for peak and failing over to a larger instance when needed. This is an effective strategy, but nonetheless requires a human being or your own automation to drive those decisions and events. Serverless promises to mostly eliminate this as an area of concern. Although you will still experience spikes, you can focus on tracking down the cause of that problem instead of worrying about maintaining sufficient headroom. We are excited to see this new product take shape.
Maintain replicas
Keeping a read replica online as a failover target is crucial for instances handling workloads for multiple customers or high-end enterprise clients who need a rapid scale-up path. Creating multiple replicas with Aurora is an option that can be used as part of a comprehensive disaster recovery (DR) plan spanning across AWS Regions.
Even if you roll with a single writer Aurora cluster for cost savings, adding an Aurora replica usually takes less time than non-Aurora RDS MySQL. The replica can be brought online as needed and used for failover/scaling-up, and then removed later on.
With a non-Aurora RDS cluster, these processes would still be doable, but Aurora helps to streamline them. On self-managed non-RDS MySQL servers, you need to have a little more knowledge and handle with care.
Amazon Aurora, as a package, comes equipped with built-in tools that are available to you right off the bat. Having these tools saves us the time that we would have to spend building something ourselves. It also provides a solution that we can trust and build upon, which, in an industry like ours, is invaluable.
How to Install WordPress Manually
Step 1: Download WordPress
Download the WordPress package to your local computer from http://wordpress.org/download/.
Unzip the downloaded file to a folder on your local computer.
Step 2: Upload WordPress to Hosting Account
There are three available options for uploading WordPress to a hosting account.
Upload via FTP – Please see FTP Getting Started for more information.
Upload via File Manager – Please see How to Upload Using the File Manager for instructions.
Upload via SSH – Please see How to Get and Use SSH Access for instructions.
Step 3: Create MySQL Database and User
WordPress stores its information in a database. Therefore, a database will need to be created.
Log into cPanel.
In the Databases section, click the MySQL Database Wizard icon.
For Step 1: Create A Database, enter the database name and click Next Step.
For Step 2: Create Database Users, enter the database user name and password and click Create User.
For Step 3: Add User to the Database, click the All Privileges checkbox and click Next Step.
For Step 4: Complete the task, make note of the database name, username and password, as you will need them for Step 4⤵ below.
Step 4: Configure wp-config.php
The wp-config-sample.php file contains the database information and tells the WordPress application which database to pull information from. This step must be completed to ensure the correct database information is associated with the WordPress installation.
The wp-config-sample.php file can be found in File Manager in the folder where WordPress is installed. To modify the file:
Log into cPanel.
In the Files section, click the File Manager icon.
In the pop-up box, select Web Root and check the box for Show Hidden Files (dotfiles), then click Go.

If you don't see the pop-up box, you may have selected the "Skip this question, and always open this directory in the future when opening File Manager" option.

To make the pop-up reappear, simply click reset all interface settings at the very bottom of your cPanel.

From the left navigation menu in File Manager, click public_html to expand the folder.
Click the folder containing the WordPress installation.
On the right side of the File Manager screen, locate the wp-config-sample.php file.
Right click on the file, select Rename and change the name of the file to wp-config.php. Click the Rename File button.
Right-click on the wp-config.php file and select Code Edit. When the file opens, look for the following information:

define('DB_NAME', 'database_name_here');
	
	/** MySQL database username */
	define('DB_USER', 'username_here');
	
	/** MySQL database password */
	define('DB_PASSWORD', 'password_here');

Replace database_name_here with the name of the database you created (above in Step 3: Create MySQL Database and User ⤴).
Replace username_here with the username of the database you created.
Replace password_here with the password of the database that you created.

When done editing, click the Save Changes button, then close the file.
Step 5: Run the Installation
Open a new browser window and go to the installation page to run the installation script. Depending on where you installed the script, you will find it at either of the following URLs:
http://example.com/wp-admin/install.php
http://example.com/blog/wp-admin/install.php
Be sure to replace example.com in the example above with your actual domain name.
You should now see a welcome page that says "Welcome to the famous five minute WordPress installation process!"
Step 6: Complete the Installation
On this page, fill in the fields for:
Site Name
Username
Password (needs to be entered twice)
Email address (login information will be sent to this email address)
Select whether or not to have the search engines index the site
Click Install Now, and you should be taken to the final screen, showing the following message:
Success! WordPress has been installed.
Features
Major Features of WordPress :
WordPress powers more than 23% of the web – a figure that rises every day. Everything from simple websites, to blogs, to complex portals and enterprise websites, and even applications, are built with WordPress.
WordPress combines simplicity for users and publishers with under-the-hood complexity for developers. This makes it flexible while still
WordPress is a powerful semantic publishing platform, and it comes with a great set of features designed to make your experience as a publisher on the Internet as easy, pleasant, and appealing as possible. We are proud to offer you a freely distributed, standards-compliant, fast, light, and free content management system, with sensible default settings and features, and an extremely customizable core.
The following is a list of some of the features that come standard with WordPress, however there are literally tens of thousands of plugins that extend what WordPress does, so the actual functionality is nearly limitless. You are also free to do whatever you like with the WordPress code, extend it or modify in any way or use it for commercial projects without any licensing fees. That is the beauty of free software, free meaning not only price but also the freedom to have complete control over it.
At a Glance 
At a Glance
Proven
WordPress powers more than a quarter of new sites today, is the content management system (CMS) of choice for nearly a half of the top million sites making it the most popular on the web, and is trusted by content publishers both large and small including CNN and the NY Times. With more than 50 million sites globally and 13 years of proven history, you know you're getting the best software for the job.
Easy to use
At the core of WordPress is a simple interface similar to the desktop publishing software you use today. With no coding experience or expert knowledge necessary, the learning curve is often about as short as typing in your site's URL and logging in. In fact, most users are able to pick up the basics without any training at all. Interfaces are polished and easy to use, and are the result of years of refinement. It's the power of Microsoft Word with the intuitiveness of an iPhone.
Built for Publishing
WordPress makes sharing content and attracting readers to your site a breeze. Whether pushing content to social networks, ensuring that your website is provided in the optimal format to appear at the top of search results the moment you hit publish, or providing visitors the ability to subscribe to specific content sub-feeds in their favorite feed reader (or even via e-mail), WordPress is not simply a website, but rather a content-publishing platform. With a single click, you have a powerful megaphone to broadcast your message to the world.
Backed by Community Support
WordPress is supported by a vibrant community of users who have already solved many of the toughest challenges to sharing information today. WordPress Version 4.9 has been downloaded more than 160 million times since it was released a few months ago. With a library of more than 50,000 free, open-source Plugins and Themes growing each day, and hundreds of core contributors each release cycle, the WordPress community is an ecosystem built around the platform's viability and proven success.
Multisite
WordPress can be extended to MultiSite feature on demand base. You are able to develop and maintain multiple sites using single WordPress installation. Multisite allows multiple virtual sites to share a single WordPress installation. When the multisite feature is activated, the original WordPress site can be converted to support a network of sites.
Content is King 
Content is King
Your Entire Workflow
WordPress can take the place of your entire workflow from the initial draft to the time you hit publish – spelling, grammar, collaboration, and review – there's no need for e-mails back and forth or expensive desktop software.
Beyond Black and White
Everything that makes webpages feel rich – pictures, videos, music, documents – can feel right at home in WordPress. With a drag-and-drop file uploader that uses the latest technology to ensure your file effortlessly makes it to the web page every time, and a media browser to help you store, organize and find the files you're looking for, WordPress hosts the files that make your pages pop.
Distraction Free Writing
Between E-Mail, IMs, Texts, Tweets, and Status Updates, we have enough distractions in today's world. Your publishing platform should not be one of them. While writing, WordPress literally fades away, letting you concentrate on your ideas themselves, not how you're getting them out there.
Never Lose a Word
WordPress automatically saves your work as you type so you don't have to worry if your computer crashes or you make a mistake. Want to go back to a previous version? Not a problem. Every time you hit save, WordPress creates a snapshot that you can restore with a single click.
Time Travel
Okay, not really, but it's pretty close. WordPress lets you schedule posts for some time in the future or lets you backdate a post for some time in the past so that you can write when it's convenient for you.
Publish Anywhere
The internet's everywhere, so why shouldn't your workflow be? WordPress has mobile applications for Android and iOS. Wherever you are, control of your site is literally at your fingertips. Phone not listed? No fret. You can even post to your site by e-mail.
Password protection
You can give passwords to individual posts to hide them from the public. You can also have private posts which are viewable only by their author.
Multi-paged posts
If your post is too long, cut it up into pages, so your readers don't have to scroll to the end of the world.
Save Drafts
Save your unfinished articles, improve them later, publish when you're done.
Previewing Posts
Before you press the "Publish" button, you can look at the preview for the article you just wrote to check if everything is the way you want it. In fact, you can do that at any time, since the preview is "live".
A Supercharged V8 Under the Hood 
A Supercharged V8 Under the Hood
The Right Tuxedo for Any Content
Your content deserves the best. The site should conform to your content, not the other way around. WordPress comes with a full theme system which makes designing everything from the simplest site to the most complicated portal a piece of cake. Have a new design every day. Your ideas should look as good as what they say.
Obsessively Organized
It doesn't matter how much content you have, if your visitors can't find it. WordPress organizes your content by day, by month, by year, by author, by category — any way you can describe it — and dynamically creates browsable archives so things always stay up to date.
Killer Search Inside and Out
WordPress has killer search baked in. Every word you write is fully searchable through a single box at the top of each page and if your users choose to use an external search engine like Google, rest assured, WordPress will present your content in a way that all but ensures it makes it to the top of the results every time.
Even the URLs are Beautiful
Ever go to a site and look up to the URL bar only to see a string of letter and number gobbledygook? WordPress realizes that websites are built for people, not computers. Every URL is intuitively written for humans and describes what your content says, not where it sits in a database.
Typography Nerds Rejoice
To do it right, publishing on the web can be a pain without the right tools. Every time you hit publish WordPress silently typesets each and every letter for seamless web production. Where many other CMSs let the details fall by the wayside, WordPress uses the Texturize engine to intelligently convert web-unfriendly characters like quotes, apostrophes, ellipses, em and en dashes, multiplication symbols, and ampersands into typographically correct HTML entities. For information about the proper use of such entities see Peter Sheerin's article The Trouble With Em 'n En.
¡Bienvenidos a WordPress!
WordPress has been fully translated to more than 180 different languages, so however you say "publish", you'll be saying it in no time flat. You can create a site that is localized to your choice, and delivered in a language of your choice. The gettext method is used to translate and localize WordPress to the fullest extent.
Drag and Drop Administration
Didn't major in computer science? No degree required. Most of what users see from menus to the dynamic functionality on each page can be fully customized with simple drag-and-drop controls on the back end.
Multiple Personalities
Got a bunch of users? Not a problem. WordPress lets you define different roles for different users – just like in real life – and lets you assign privileges accordingly. Users can register themselves (if you want), and can submit content for your review.
User Tested, Geek Approved 
User Tested, Geek Approved
Out-of-the-box Power
WordPress provides extensive functionality right out-of-the-box and often little customization is needed to adapt the software for your unique use. Many other CMSs rely on you to hunt down, install, and configure a long-list of add-ons just to get many of the features WordPress considers core (comments, RSS feeds, revisions, etc.) and relies on developers to undertake significant coding efforts to provide the functionality you need. WordPress does the heavy lifting so you don't have to. Why reinvent the wheel when you already have the best wheel in the world?
Open and Transparent
WordPress is built by a dedicated community of professional developers, academics, and enthusiasts with the source code released to the world to take apart, build upon, and improve. Its hallmark is a rapid development cycle, meaning frequent updates and always up-to-date software, all with no licensing fees or direct costs. And with an extensive international community professional support is always wherever you are.
It's Your Data
Some publishing platforms lock you in with proprietary data formats. Not here. WordPress relies on open standards to allow you to take your data with you, and even comes with tools to seamlessly import from many popular sources. It's your data, and you should be able to do what you want with it. We currently have importers for Movable Type, Textpattern, Greymatter, Blogger, and b2. Work on importers for Nucleus and pMachine is under way.
It's Your Software
WordPress is designed to be installed on your own web server, in the cloud, or in a shared hosting account. You have complete control. Unlike commercial software or third-party hosted services, you can be sure of being able to access and modify everything related to your site. You can even install WordPress on your personal computer, or on a corporate intranet.
Power One Site or Millions
WordPress offers multi-site technology. It is the same technology that powers over 20 million sites on WordPress.com and global sites like CNN and the New York Times. Multi-site technology allows users to have full administrative control over their own site, without any security concerns. Each site can have its own look-and-feel (themes), its own functionality (plug-ins), and manage its own users, while at the same time, network-wide policies and security updates can be deployed at the click of a button.
Dynamic page generation
No rebuilding of all your pages each time you update your site, or any aspect of it. All pages are generated using the database and the templates each time a page from your site is requested by a viewer. This means that updating your site, or its design is as fast as possible, and required server storage space usage is minimal.
Template Driven Design
WordPress uses templates to generate the pages dynamically. You can control the presentation of content by editing the templates using your favorite text-editor or IDE, or even the built-in Template Editor tool. Template tags make it easier to design the content and information displayed on your site. You don't need to be a PHP whiz to make your site's look-and-feel match your vision.
A Serious Platform for Serious Content 
A Serious Platform for Serious Content
Your Site is Your Castle
WordPress has more than eight years of history powering stable, secure websites. Vulnerabilities are discovered quickly because of the wide user-base and dedicated open-source community, patches are rapidly developed by the dedicated security team, and often released in the span of hours from the time they are reported. WordPress comes with an integrated core-update system, so patches are deployed at the click of a mouse. WordPress sanitizes all user input, restricts URL access, has an extensive user permissioning system, and never stores passwords in an unencryptable format. WordPress uses WordPress.com's 20 million users to beta test releases before they come out, so that by the time new versions are released, stakeholders can be confident in their stability.
Extensive APIs
WordPress's core relies on its own extensive API interface (commonly known as dogfooding) which consequently allows developers to quickly and effectively customize the application to their unique needs. Many aspects of the essential WordPress experience can be overridden or modified by user-generated hooks and filters. These APIs help WordPress integrate seamlessly with existing systems, a necessity in a stove-pipe rich environments.
Enterprise Ready
Any challenge the organization faces, chances are, someone else has already tackled it and provided the code free of charge. WordPress has been adapted to countless enterprise environments, and provides support for Active Directory authentication, user management, work-flow integration, and scheduled backups, among other enterprise-centric features.
Interoperability
Want to connect WordPress to another system? WordPress uses XML-RPC, an open XML standard that allows different systems in different environments to talk to one another. XML-RPC is designed to be as simple as possible, while at the same time allowing for complex tasks to be performed. WordPress also supports an extended version of the Blogger API, MetaWeblog API, and finally the MovableType API. You can even use clients designed for other platforms like Zempt.
Maintenance so simple you'll wonder why you did it the other way
Installing and upgrading WordPress is a piece of cake. WordPress's famous five minute installation is the envy of the industry, and with one click updates, you'll know you are always using the best. Try it and you'll wonder why all software isn't this easy.
Standards Compliant… and then some
The WordPress team has gone to great lengths to ensure every bit of WordPress generated code is in full compliance with the standards of the W3C. This is important not only for interoperability with today's browser but also for forward compatibility with the tools of the next generation. Your website is a beautiful thing, and you should demand nothing less.
More than a Blog… Much, Much More
Anyone who says WordPress is a mere blogging platform is covering for the fact that they haven't been following the CMS's explosive growth over the past couple years. Saying WordPress is only a blogging platform is like saying BMW is only a propeller manufacturer. In fact, the majority of the time, WordPress isn't even used as a blog. With built in support for custom post types and custom taxonomies, if you can dream it, WordPress can make it a reality.
Broadcast Your Ideas 
Broadcast Your Ideas
Feeds
The RSS 1.0 (aka RDF), RSS 2.0 and ATOM specifications are fully supported by WordPress, and what's more, just about any page on your site has an associated feed that your readers can subscribe to – there's a feed for the latest posts, for categories, comments, well, like we said earlier, for anything you want. The more options your readers have to keep track of different sections of your site, the easier it is for you to spread the word around the world. WordPress also fully supports RSS 2.0 with enclosures, so adding mp3 files (such as podcasts) to your RSS feeds is a snap.
Inter-site Communication
In an increasingly connected world, WordPress comes ready for PingBack and TrackBack, two very useful ways of connecting to other sites, and to enable them to do the same. Plus, WordPress supports pinging Ping-O-Matic, which means maximum exposure for your site to search engines.
Grow Your Community 
Grow Your Community
Community Building
WordPress is not the YMCA, but it does help build communities around sites, through the use of comments, trackbacks and pingbacks, helping you keep in touch with the audience and fostering friendship
Comments
Visitors to your site can leave comments on individual entries, and through Trackback or Pingback can comment on their own site. You can enable or disable comments on a per-post basis.
Spam protection
Out of the box WordPress comes with very robust tools such as an integrated blacklist and open proxy checker to manage and eliminate comment spam on your blog, and there is also a rich array of plugins that can take this functionality a step further.
Full user registration
WordPress has a built-in user registration system that (if you choose) can allow people to register and maintain profiles and leave authenticated comments on your blog. You can optionally close comments for non-registered users. There are also plugins that hide posts from lower level users.
Allowed html tags
Not everyone is evil, but keep those who are in check by limiting which html tags are kosher on your site. The default html tags allowed by WordPress are a sane choice to let people use html in their comments, without compromising the safety of your data or server.
Moderation
For the control freak in all of us, WordPress provides an array of moderation options. You can moderate
all comments before they appear on the blog
comments with specific words in them
comments posted from specific IP addresses
comments containing more than some specified number of links.
All these moderation options keep spammers and vandals in check.
Notification
WordPress can keep you in the loop by sending you an email each time there is a new comment or a comment awaiting moderation.
License, Platform, and Philosophy 
License, Platform, and Philosophy
License
WordPress is licensed under the GPLv2 or later which guarantees users several freedoms:
The freedom to run the program, for any purpose.
The freedom to study how the program works, and change it to make it do what you wish.
The freedom to redistribute.
The freedom to distribute copies of your modified versions to others.
Platform
PHP 7.2 or greater and MySQL 5.6 or greater and mod_rewrite Apache module. More information
Philosophy
WordPress's development is guided by a set of unwavering principles. They are:
Work Out of the Box
Design for the Majority
Decision not Options
Clean, Lean, and Mean
Strive for Simplicity
Deadlines are not Arbitrary
Be Mindful of the Vocal Minority
The WordPress Bill of Rights
AWS
Secured WordPress with Aurora on Windows Server
Instructions for using installed components with AWS Template for WordPress on Aurora
A) Application URL: Template Output provides the Application URL as well as Database details.
Access the application via a browser at the load balancer URL which is the website URL from the template output.
B) RDS Cluster / Aurora Details:
RDS Cluster / Aurora Details can be obtained from the Output of the template.
Start using Wordpress by opening WebSiteURL from the Output of the template in a browser and enter custom details for your site.
Database details are already configured for the WordPress site in its config file as per inputs during template deployment.
Details are also available in
C:\Install\Aurora_credentials.txt in the ec2 Instance.
C) RDP Connection: To connect to the operating system,
1) Connect to virtual machine using following RDP credentials :
Hostname: PublicDNS  / IP of machine
Port : 3389
Username: To connect to the operating system, use RDP and the username is Administrator.
Password : Please Click here  to know how to  get password .
D) Other Information:
1.Default installation path: will be on your web root folder "C:\inetpub\wwwroot\"
2.Default ports:
Windows Machines:  RDP Port – 3389
Http: 80
Https: 443
To begin configuration please refer the following:
When you open the WebSiteURL you shall see the below screen
Database details have already been entered during template deployment.
After filling the site details and going to next page your site configuration shall be complete.
A configured site shall be similar to below screen.