1-click AWS Deployment    1-click Azure Deployment
Overview
SuiteCRM is a software fork of the SugarCRM. SuiteCRM is a free and open source Customer Relationship Management Software. It is one of the most popular alternatives to the famous paid SugarCRM and SalesForce.In order to test SuiteCRM, one can either subscribe for a demo instance which only lasts a couple of days. If more time is required for SuiteCRM testing, there are a couple of options including deploying pre-baked SuiteCRM instances on Amazon AWS, Microsoft Azure, Alibaba Cloud, and Google Cloud Platform. One can also setup his/her own SuiteCRM instance on either any of these public cloud platforms or on local servers.
SuiteCRM Workflows
Strive incomparable experience of SuiteCRM Workflows here
Every organization is in search of greater format to work on and for that, we are here for you to offer you a service of Workflows where a proper process will go all the time. If you have set your mind to go for the workflows service then, of course, you will be updated all the time. Well, we don't know about others but if you give us a chance regarding this workflow service then here let us aware you that we do the entire process with the help of programming.Our team can build up workflows for you as we have a good connection with our former clients where we share more functionalities regarding our workflows to them. We are experienced in this workflows process and we are sure that you will like to use service from those who handled many projects regarding this. The demand for getting unique SuiteCRM Workflows is too high so deal with us and understand it's functionalities too.
A great change in business growth thanks to SuiteCRM Workflows
Offering service and it is not beneficial for business, how it is possible. We offer humongous services and Workflows is one of them where a chance for you to raise your business growth effectively. Well, you agree with this- Workflows can assist you to save your efforts regarding business activities but there are many such other aspects too. If going for this service then you can watch it as a map of your business where you will get to know a better way of understanding business strategy. You can say an overall view of your business so that there is no chance to miss anything.Now one more significance of SuiteCRM Workflows service is that you are able to check out the activity that one which is important for you to work on first. Surprised! Now we guess you will deal with our Workflows service as it will highlight the activity that is the first priority for you to know. And if your requirement is to increase productivity then your decision to go for Workflows concept is correct.
SuiteCRM Customization
More flexibility in your business, credit Customization service
You are working in the CRM industry so there is a hundred percent chance that you will search for some flexible solutions that can assist you while working and you will apply in your CRM too. But we already told you above that the situation might come when the platform Suite doesn't work like your expectation. What's your goal then? You will move on or find a solution? Instead of moving on you need a service like SuiteCRM Customization which is basically for this purpose. Everyone wants their work to go on and stay forward like their expectations so your expectation of work just depends on customization service only. The service like this has the power to boost the potential of your business and you may watch your business keep forwarding to the next level. Your need may fulfill only by this service and of course, you are looking to gain some productivity in the present and future so this service is the best solution for you.
Customized Module
Your requirements are unlimited as you want to stay with your competitors or want to beat the competitor's organization so here let us introduce Customization Module which is included in this service. We want our clients to keep their eyeballs here as this module can be fascinating for you when talking about work. Well, there were many modules so allow us to share the name and those were Testing Module, Database Module, Library module and many more are there and the interesting part is all such modules offer similar relations. There is no need to go deeper into the concept of understanding the relations now. You have a chance to build up your customized module but we are sure that many of you readers who are paying attention here can't handle this job. Yes, it might be tricky for most of you so our suggestion is if you opt our SuiteCRM Customization than we can assist your entire work regarding module and all.
Customized Workflow
Working process goes accurately and no such hassle you are facing and it goes with a proper process then you are at the right place because Customization service will help you here. It has included a Customized workflow that handles this job where the work process goes smoothly and increases efficiency. This is much-needed because such a workflow process can assist you to save your precious time while working. The clients while working is in need of complete details and obviously an accurate one as the process of work goes in a manner so customization workflow is a great choice to do so. Remember- clients always go there where some quality of time saves so we are sure that you will surely make use of our SuiteCRM Customization service as soon as possible.
Customized Themes
Now you're thinking about CRM in a different way as you need to show CRM more creative so for this, we decided to awake you with Customized Themes that can handle this job. You have the power to use a various variety of fonts and colors and even the text and you can change it according to your idea that you build up. You decided to flaunt CRM then we are sure that no other service can match up the level of Themes. One more thing we want to say, you can change the list view, record view and also detail view and customized in the Suite platform. This SuiteCRM Customization can open up your eyes and just focus more on your business productivity as such aspects can take your business to reach new heights of success.
Customized Dashboards
Those who want an overview of their business activity about work then for you, Customized Dashboard is here. How? Let's get deeper into the concept as the Dashboards will show you the overall activity that you are going to perform and it opens up when you work on SuiteCRM. Let us share an example here- you are running an organization so when you open up the Suite platform then Dashboard appears and it informs you about the target where you have to reach on and about the meetings and all. Your entire activities which you need to do is basically shared by Dashboard only so you can say it creates an alarming situation for you about your business tasks.
Experience excellent services, meet Outright Store now
For your business growth, you not only need to opt for some amazing service regarding the CRM platform but also the services should be the finest one that can assist you when you need them the most. In that case, Outright Store is an excellent choice as we offer some of the best services of the Suite platform and the services were SuiteCRM Customization, Data Migration, Integration, Addons, Demo, Support and there were many more. We want every client to shake hands with us and deal to get the most positive results that you dreamed to get. We have 12 years of experience in the CRM industry as our team handled many projects where we always show them the finest solutions. We fulfill your expectations and give the best functionality in every CRM software.
SuiteCRM Plugins
SuiteCRM Twilio SMS
Tired of sending SMS one by one to your contact members? Here we are ready to introduce a SuiteCRM plugins Twilio SMS where your extra effort is going to save and you can send SMS in bulk at one time. Surprised! Such kind of extension can play a key role in every organization that works via SMS. For example- those who are working in the marketing business, you can promote via SMS by using the plugin called Twilio SMS.
Here the details of your former customers always remain saved
You will get a chance to send SMS just with the help of SMS Templates
You can also stop the service by using our Opt-out option
Twilio Power Dialer
It's quite tricky when communicating with many customers so to resolve your problem we have introduced Twilio Power Dialer that is ready to handle this job. Now you will see a SuiteCRM plugin can manage multiple phones at a single time so it is a time saving one and of course zero percent chances are there where you need to show some high effort when communicating with customers. For example- No need to dial your own customers continuously, Twilio Power Dialer can manage multiple phones swiftly.
Recording of your customers always remain in a safe zone
Chance to set the delay time if you want to
Save your precious time when Twilio Power Dialer is here
Twilio Click to Call
Similar like Twilio Power Dialer but a little bit different as here Twilio offer this Twilio Click to Call feature where the clients are allowed to manage one call at a single time only. There are no such managing multiple phones and even the customer can write a review in a message if they want to. Communication level here always remains strong as chances are high to maintain a relationship with customers in the future too.
If someone calls you, a pop-up appears on the screen
Your recordings with customers always remain saved
Absolutely time-saving addon when communicating with customers.
SuiteCRM Database Backup
Our addon automates the process of data SuiteCRM Backup as it gives customers the ability to create data backup thrice a day according to the time of your preference. At the same time, it also sends a notification to the user on a real-time basis giving a detailed overview of the data saved. It also automatically removes the excess data once it reaches a certain limit set by the user. For example- using SuiteCRM Extension Backup, you can save your customer's data as the plugin keep their data in a safe zone.
No time limit, you can set your data anytime
You can share data from one server to the next server
If you want to delete data, you can set time limit tool
SuiteCRM Drip Campaign
Drip Campaign has the potential to engage your users in a more personalized fashion. Customers are at the core of any existing business and they deserve more personalized interaction. We understand that the Drip Campaign extension may take time to develop but after that, it works swiftly and that's what you need for your business. For example- Using our SuiteCRM plugins, you can send multiple emails and you will opt for the best email marketing strategy.
Drip campaign takes into consideration their activities and preferences.
Get rid of the same old redundant messaging in this SuiteCRM Addon.
Drip campaign also gives more enhanced and personalized emailing known as Drip.
Record Restore Manager
Our plugin called Record Restore Manager comes with the ability to recover lost data at any point in time. With the help of SuiteCRM plugins, you can relax and concentrate more on increasing productivity and further enhance their functionality. With the help of Record Restore Manager, customers do not have to face the discomfort of not being able to restore lost data. If any data is lost by any error, it can simply be restored with the help of this unique and highly important tool. For example- there is a chance when you lose customer's data so this SuiteCRM plugin can play a key role for you.
Only admin has the power to restore the data
In just     one click, data can be restored
There is also separate admin section for restoring data
SuiteCRM Theme Style Builder
This can be interesting as you are allowed to use the fonts and different theme styles, thanks to an extension called SuiteCRM Theme Style Builder which is basically for this purpose. Now no need to wait for the designer, just use by yourself as a variety of color are there. Well, such kind of SuiteCRM extension is required because it can assist to bring change in the productivity of your CRM Layout. No such restriction when Theme Style Builder is here for you.
You can change the color of list view and edit view
Different font style are here for your business work
Change the theme of CRM if you want to
SuiteCRM Email to Lead
Using SuiteCRM Email to Lead, the addon can create cases through inbound emails. Moreover, users simply get access data in different modules and the modules are like leads or contacts. The Addon SuitCRM Email to Lead gives a chance to every customer an ability to save their prominent data in different modules with the assistance of inbound emails automatically. Therefore, users can save their valuable time and increase overall productivity while working on this SuiteCRM Addon. For example- a chance to create a record in a quicker process, credit to SuiteCRM Email to Lead that offer this feature via inbound email for SuiteCRM.
You can automatically assign the record to team members
Chance to select any module as a target in this SuiteCRM plugin
It can save your quality of time and effort too.
Document Bulk Uploader
It can be a hassle for the clients when they want to upload the document one by one. We understand the situation so that's why we have introduced a plugin called Document Bulk Uploader for you. You get a chance to do this uploading process in a single time now. Multiple documents now can be uploaded in just one go so this SuiteCRM plugin is too interesting. For example- You want to save your efforts by uploading the customer's document, our tool can do this process swiftly.
Entire document gets attached to parent recording in this SuiteCRM Addon.
While uploading, you can see the document status
Your document can be sent to custom module
Google Sign-In
Okay, so how many of you are unknown about one-click CRM open concept? If you don't know then let us share new aphorism for you and that is Google Sign-in. Using this extension you don't need to remember password and all, just one click and your CRM will open. Here the Admin has to set Google Domain for sign-in users. Your time will save while going to work on CRM, what else do you need now. For example- Some ventures don't want to write password or ID again and again so make sure they operate this SuiteCRM plugins.
Set the Google Domain for sign-in users
A time-saving extension when going to open CRM
You can set roles and teams for new users signup.
Sensible solutions with a realistic idea, Outright Store is here
For your business purpose, Outright Store is ready to share some achievable solutions for you where you will be guided properly about the CRM software that how it can be your first priority. We know the organization may feel discomfort when there is no CRM software so we can guide you where you may find any problem whether it's the SuiteCRM platform or SugarCRM. We deal with every novice or even with large scale ventures who are in search for some feasible solution regarding CRM. Get in touch with us and share what queries you need to solve and our team of experts will assist you at
SuiteCRM installation 
Start a SuiteCRM website in just 3 minutes:
To help you get started with SuiteCRM our Technical Support team provides Free SuiteCRM Installation.
Free SuiteCRM Installation by our Support Team
Free Domain Name for Life
24/7 Technical Support team
Optimized SSD SuiteCRM Hosting
Fast and Secure Servers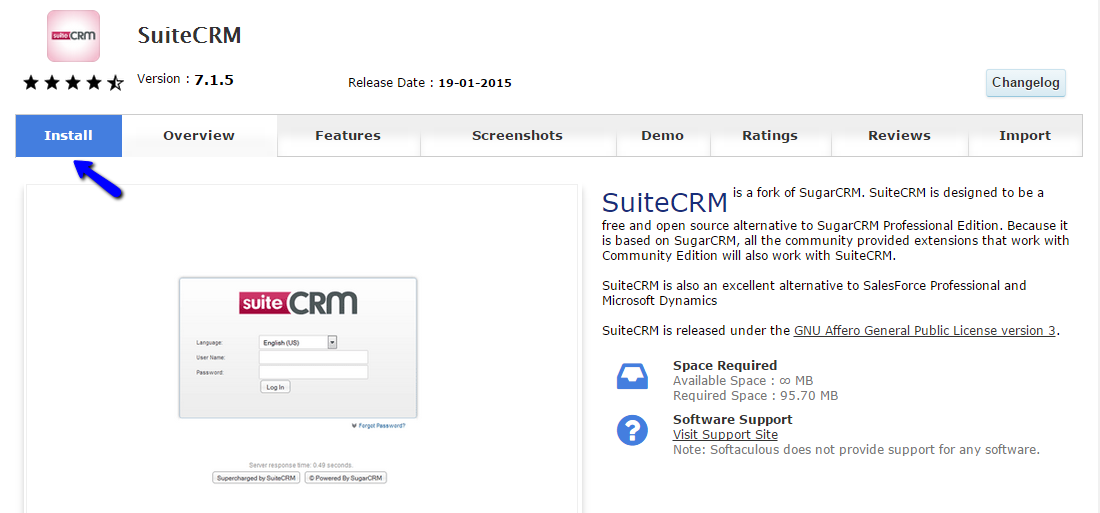 Step 2

 Initiate SuiteCRM Installation

There are a few options that you have for the new SuiteCRM installation on your account. They allow you full control over the new installation and we will review the all so you can get a better understanding of the process. There are three main sections with available options and the first one is the Software Setup. It allows you to edit:
Choose Protocol: Choose the protocol to be set on your website. NOTE: Do you choose the secured https protocol if you do not have an SSL certificate installed for your domain. This is a paid service you can get via your Client Area.
Choose Domain: Select the domain you will use for your new SuiteCRM installation. If you have any addon or subdomains on your account, you will be able to select them from here.
In Directory: This option allows you to install the application in a subfolder of your account. If you wish to install it directly on your domain, simply leave this field blank.
Database Name: Enter the name of the database to be used for your new installation. The system will automatically create it for you.

The second section is the Site Settings and it contains a single option:
Site Name: Enter the name of your website. This can be changed easily later.

The third section is the Admin Account and the options available in it are:
Admin Username: Set the administrative username for your website. Make sure that you keep that safe as you will need it for managing your website.
Admin Password: Enter the password for the admin user on your website.
First Name: Enter the first name of the administrator.
Last Name: Enter the surname of the admin user.
Admin Email: Enter the email address of the administrator on your website.

Step 3

 SuiteCRM Installation Completed

When you are ready with all of the options above, simply click on the Install button. The system will initiate the installation for you within a few seconds. Upon completion, you will receive a successful message, displaying the details of your new website. Keep them safe as you will need this information in the future.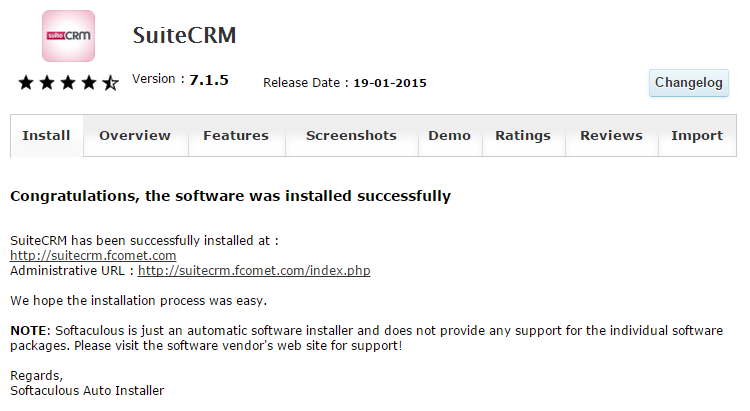 How to find the SuiteCRM Configuration File
Here we  will review the main configuration file of SuiteCRM and how to review it on your end. This file contains sensitive information and you can use it for direct edit of the core features of your website.It is important to mention that editing the configuration file of your SuiteCRM website may corrupt it entirely. If you are not sure about the changes you are about to make, it is best to generate a backup of the file, so you can restore it to operational state if something goes wrong.
To access the file, you need to locate the SuiteCRM installation folder on your account. If you are accessing your website directly via the primary domain of your account, this indicates that SuiteCRM is installed in the public_html/ directory of your account. However, this may differ if your website is configured on subfolder or subdomain.Once you access the location of your SuiteCRM website, you need to look for a config.php file. It contains a lot of information, such as the database details of your website, the domain used on your website and much more.
The database details are being held in the following section in the file:
  'dbconfig' =>
  array (
    'db_host_name' => 'localhost',
    'db_host_instance' => 'SQLEXPRESS',
    'db_user_name' => 'suitecrm_scrm',
    'db_password' => 'p4ssw0rd',
    'db_name' => 'suitecrm_scrm',
    'db_type' => 'mysql',
    'db_port' => '',
    'db_manager' => 'MysqliManager',
  ),
You can also see the domain set on your website, the version and much more:
  'site_url' => 'http://suitecrm.fcomet.com',
  'slow_query_time_msec' => '100',
  'sugar_version' => '6.5.20',
  'sugarbeet' => false,
  'suitecrm_version' => '7.2.1',
We also recommend that you completely review the config.php file and all of the options it contains. This is a valuable information that you may have to use later.
Configure the Basic Information in SuiteCRM
Here we will review the basic configuration of SuiteCRM and how to set your website per your needs. For this purpose, you first need to log into your website as administrator. Click on the Administrator button at the top-right corner of the screen and then the Admin option.

In the System tab, click on the System Settings option to proceed with the configuration.

There are a few sections with different configuration options for your SuiteCRM. They are:
User Interface – You can specify the look and feel of the basic SuiteCRM features. You can set a name for your website and upload a logo as well
Proxy Settings – You can configure a proxy service for your website
SkypeOut – You can enable a SkypeOut integration on your SuiteCRM website
Advanced – Advanced configuration options for your website. In most cases, those options will enable different statistics for your website, but they will also slow it down
Logger Settings – Configure logging of system messages on your website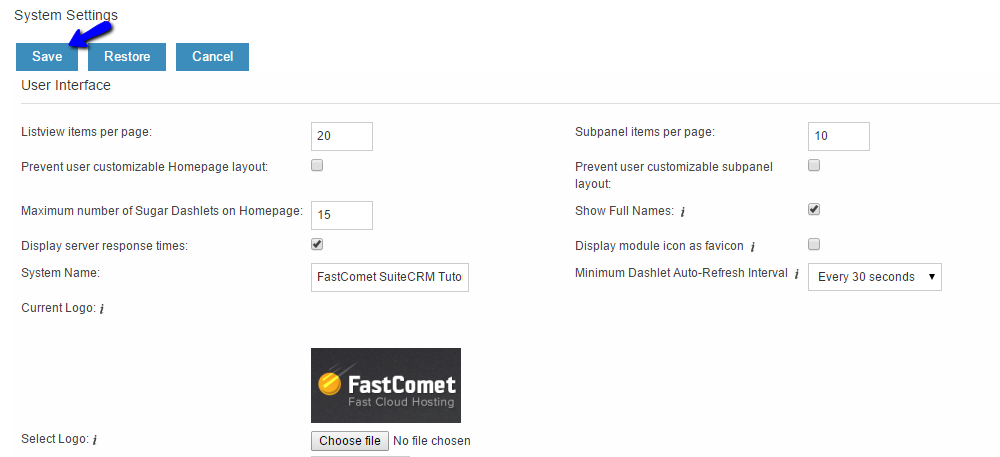 When ready, simply click on the Save button at the top to keep the changes.
How to Manage Currencies in SuiteCRM
Here we  will review the process of managing the currencies on your SuiteCRM website. For this purpose, you need to log into the administrative area of your website first. Locate the System section and select the Currencies service.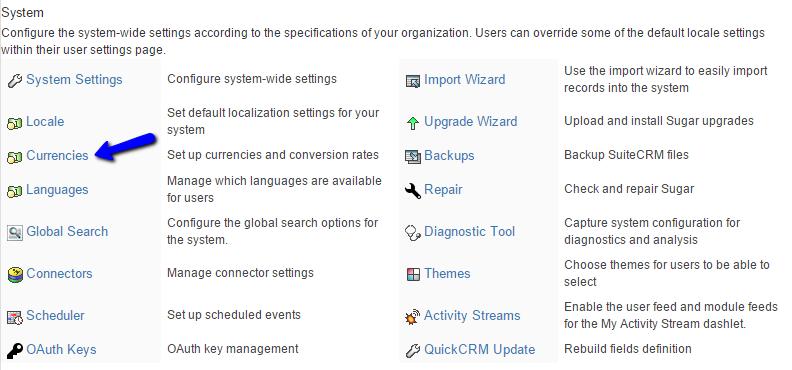 The system will display the available currencies on your website. If you have never added any additional currencies, you will see the default one only, which is US Dollars. To add a new currency, you will notice a section called Create just below the list. Enter the following details for the new currency:
Currency Name – Enter the name of the new currency that you will be adding
Conversion Rate – Enter the conversion rate, compared to the default US Dollars currency
Status – Set the status of the new currency. Select Active to enable it
ISO 4217 Code – Enter the three-letter code for the new currency
Currency Symbol – Enter the default symbol for the new currency

To remove an existing currency from your website, you can simply click on the Delete button next to it. Note that you cannot remove the default US Dollars currency.

How to Manage Sheduled Jobs in SuiteCRM
In SuiteCRM you have the ability to set automatic tasks that will be executed by the system on specified interval. This is a good feature that ensures that the most important procedures are handled automatically to avoid human errors.First, you need to access the administrative area of your SuiteCRM installation. In the System section, select the Scheduler option.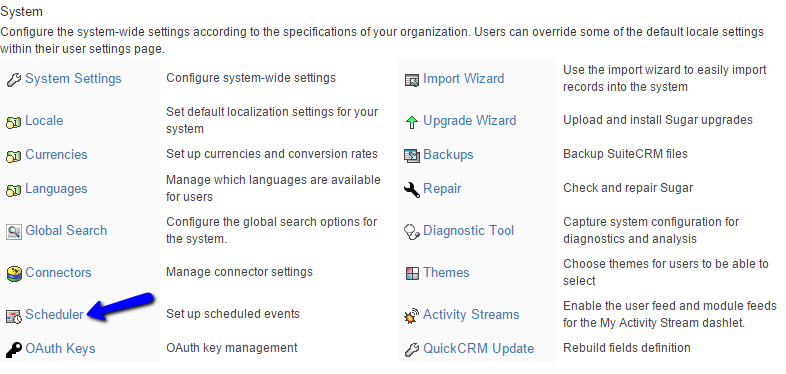 You will see a list of all available scheduled jobs on your website. Some of them are activated by default, some of them not. To create a new job, you need to click on the Create button at the top-right corner of the screen.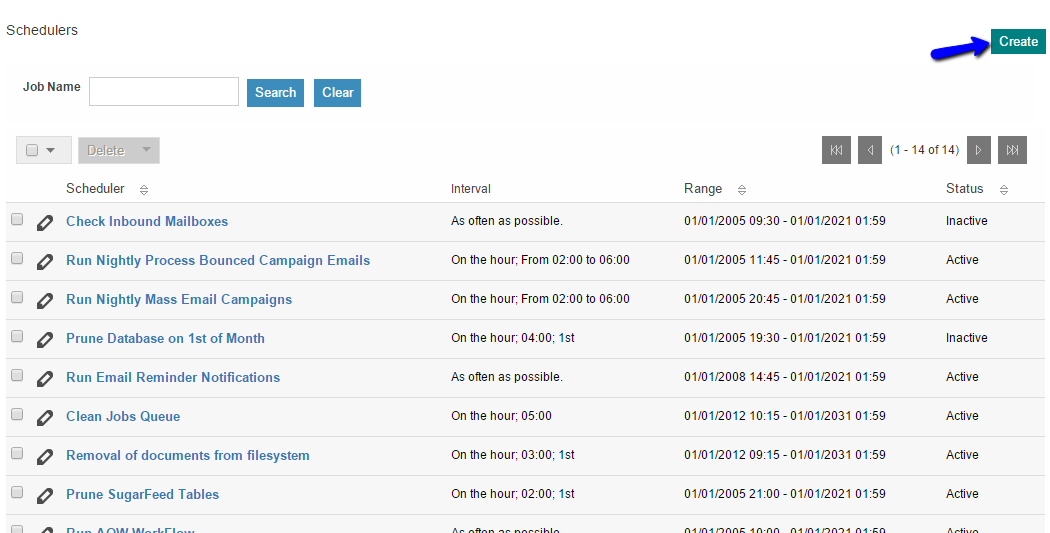 Edit the following options:
Job Name – Enter the name of the new job
Job – Select the Job to be executed
Interval – Specify the interval, when the job should be executed by the system
Status – Enable or disable the new job
Job URL – Set a job URL (optional)

You can also edit the existing jobs on your website simply by clicking on it's name. This will take you to the Job configuration page, where you can change it per your needs. To remove a job, simply select it and then click on the Delete button just about the list.

How to use the Repair Tool in SuiteCRM
SuiteCRM comes with a built-in repair tool that you can use. It provides a large number of useful features to save you time and efforts. To access the repair tool, you will need to access the administrative area of your SuiteCRM website first. Locate the Settings section on the page and then Repair.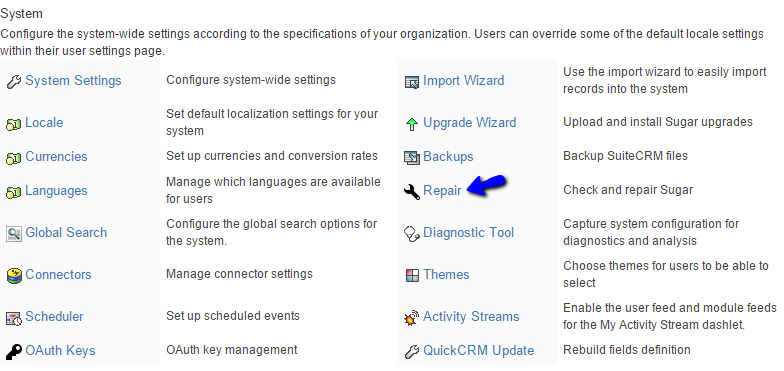 You will be presented with a list of different tools that you can use on your website. Some of the most important tools are the ability to repair your database, rebuild .htaccess, configuration file and many other files on your website. You can also repair roles, activities, remove missed files from the upload directory and many more. Click on a tool that you wish to use to execute it instantly.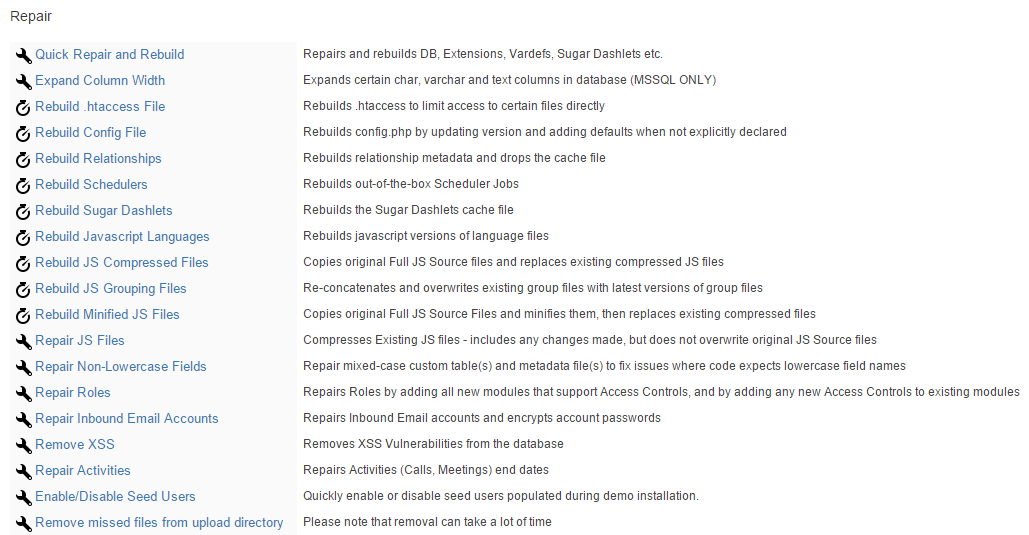 You will be presented with a report of the changes made by the tool. Check them carefully for detailed information of the process.

SuiteCRM Themes Customization
You can professionally change your CRM by yourself as we have an extension called SuiteCRM Theme Brand Builder where you get a chance to select themes and fonts according to your choice. There were numerous varieties of colours and fonts for your CRM as no such requirement of hiring any professional designer to complete this job. Using SuiteCRM Theme, it not only improves the user functionality but also raises the business productivity.
For example: You want to change your CRM Layout, so most of you look for some professional designer to complete this entire job. Well, going for SuiteCRM Theme addon, you can do by yourself and make use of a variety of fonts and themes and there is no such chance of data loss when changing CRM layout.
Key features of SuiteCRM Theme:
You can select an endless variety of fonts and themes by using SuiteCRM Theme extension.
Using SuiteCRM Theme, you are not restricted to a particular theme.
Now an easy way to change the colour of list view, edit view and detail view by going for SuiteCRM Theme.
Going for such changes improve functionality. A better chance to strengthen business productivity.
The theme you made for CRM Layout, users can apply for that.
When you upgrade the existing CRM then your data always remains intact.
SuiteCRM Benefits
SuiteCRM gives businesses an award-winning CRM platform that is free and open source and ranks among the most popular CRM options available out there including Salesforce, Oracle, SAP and Microsoft Dynamics to name a few. Function-wise, SuiteCRM is equipped with the tools and functionalities to serve companies on an enterprise-level. Ready right off the bat, you can easily tweak SuiteCRM's configurations to suit your business needs and requirements.
With SuiteCRM, users can build business process models and create flexible, automated actions that can be activated to operate at any time. Users can also create sales pipeline models and design template customer quotes, regulate and control pricing strategies, maintain contract renewals and monitor the progress of leads.
SuiteCRM offers business-unique self-service portals that enable users to deliver high quality and interactive support to their customers. Once a support request has been made, notifications are instantly delivered to service teams customers are instantly notified when the issues have been addressed and resolved.
SuiteCRM is free to download and use. That said, there is a fee that comes with customization options, Free support can be found in the community forum, whereas dedicated support services are available to small and midsize clients and unique solutions with dedicated account managers are available to large enterprise clients.
-SuiteCRM is a fork of SugarCRM. SuiteCRM is designed to be a free and open source alternative to SugarCRM Professional Edition. Because it is based on SugarCRM, all the community provided extensions that work with Community Edition will also work with SuiteCRM on cloud.
SuiteCRM on cloud is also an excellent alternative to SalesForce Professional and Microsoft Dynamics.
SuiteCRM is owned by SuiteCRM Software (https://suitecrm.com/) and they own all related trademarks and IP rights for this software.
SuiteCRM on Cloud runs on Amazon Web Services (AWS) and Azure and SuiteCRM partners to help you customise or implement the world's best open source CRM.
Cognosys provides pre-configured and ready to run environment for running SuiteCRM on AWS and Azure marketplace.
SuiteCRM ON CLOUD For Azure
Features
SuiteCRM Features
Customer self-service
Sales portal
Flexible workflow
Servicing
Marketing
ROI calculator
Finance management
Billing and invoicing
Flexible modeling of business processes
Template quotations
Pricing strategy control
Contract renewals servicing
Q&A support
-Major Features of SuiteCRM on cloud:
1. MANAGE YOUR CONTACTS– Organise your business contacts and record relevant information that will help your business create opportunities and leads. Import your contacts to communicate with clients and send marketing campaigns. Duplicate contact information for clients who work in the same business, to reduce time and improve efficiency.
2.TARGET CUSTOMERS- Target customers you want to do business with and configure them into lists through information gathered in the contacts database. By understanding who you want to target, your business can focus on creating marketing campaigns for those people who will most likely buy your product or service.
3.ORGANISE MEETINGS – Schedule meetings with clients or colleagues with SuiteCRM on cloud Max and send invites to those people you want to attend. Manage the notes of your meetings to keep track with what is happening in your business. Set an expected duration for those meetings and reminders prior to them taking place.
Azure
Installation Instructions For Ubuntu
Note : How to find PublicDNS in Azure
Step 1) SSH Connection: To connect to the deployed instance, Please follow Instructions to Connect to Ubuntu instance on Azure Cloud
1) Download Putty.
2) Connect to virtual machine using following SSH credentials:
Hostname: PublicDNS  / IP of machine
Port : 22
Username: Your chosen username when you created the machine ( For example:  Azureuser)
Password : Your Chosen Password when you created the machine ( How to reset the password if you do not remember)
Step 2) Database Login Details:
Username : root || Password : Passw@rd123
Note: Please change the password immediately after the first login.
Step 3) Application URL: Access the application via a browser at http://PublicDNS/suitecrm
 Username : azureuser (Please create new user and delete this user)
 Password : Passw@rd123
Step 4) Other Information:
1. Default installation path: will be in your web root folder "/var/www/html/suitecrm ".
2. Default ports:
Linux Machines:  SSH Port – 22 or 2222
Http: 80 or 8080
Https: 443
Mysql ports: By default these are not open on Public Endpoints. Internally 1433. Mysql :3306

Configure custom inbound and outbound rules using this link
Installation Instructions For Centos
Note : How to find PublicDNS in Azure
Step 1) SSH Connection: To connect to the deployed instance, Please follow Instructions to Connect to Centos instance on Azure Cloud
1) Download Putty.
2) Connect to virtual machine using following SSH credentials:
Hostname: PublicDNS  / IP of machine
Port : 22
Username: Your chosen username when you created the machine ( For example:  Azureuser)
Password : Your Chosen Password when you created the machine ( How to reset the password if you do not remember)
Step 2) Database Login Details:
Username : root || Password : Passw@rd123
Please change the password immediately after the first login.
Step 3) Application URL: Access the application via a browser at http://PublicDNS/SuiteCRM
 Username : azureuser (Please create new user and delete this user)
 Password : Passw@rd123
Step 4) Other Information:
1. Default installation path: will be in your web root folder "/var/www/html/SuiteCRM".
2.Default ports:
Linux Machines:  SSH Port – 22 or 2222
Http: 80 or 8080
Https: 443
Mysql ports: By default these are not open on Public Endpoints. Internally Mysql :3306
Configure custom inbound and outbound rules using this link
3. To access Webmin interface for management please follow this link
Azure Step by Step Screenshots
Videos
SuiteCRM Installation – Part 1
---